Posted on
Wed, Oct 19, 2011 : 5:55 a.m.
Share your Halloween-themed photos of your pets for Pet Photo Friday
By Lorrie Shaw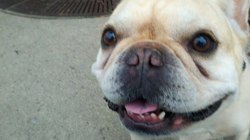 Lorrie Shaw | Contributor
The images that our readers send in each week for Pet Photo Friday are always a joy, and we know that this week will be no exception.
We're entering a very fun time of year, crisp weather, pumpkins, festive Halloween decorations — it can all bring out a really fun side of our four-legged friends.
Do you have a photo of your dog dressed in a Halloween costume? Did you snap a photo of your cat "hunting" in a pile of leaves?
Why not submit a favorite photo of your pet? For the next couple of weeks, we'll be featuring autumn and Halloween-themed photos for Pet Photo Friday.
We're inviting you to email a photo of your companion animal to ppsa2mi@gmail.com, any time during the week to participate in this fun feature.
Doing so is easy — simply include your companion animal's name, age and city or township of residence in your email. Be sure that your photos are 600 pixels wide and in .jpg format.
We put the week's photos into a slideshow, publish it and promote it each Friday here in the Pets section. Check out past slideshows here.
Lorrie Shaw is lead pets blogger for AnnArbor.com. Follow her pet and writing adventures on Twitter. She welcomes your contact via email.