Posted on
Thu, Sep 5, 2013 : 6 a.m.
Understanding, then identifying differences between shy and nervous behaviors in dogs is crucial in helping them
By Julia Levitt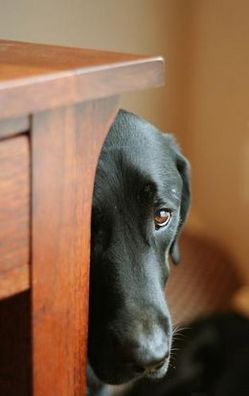 Photo courtesy of prlog.org
This question can create a quandary for trainers: "Is this dog a shy dog or a nervous dog?" The answer will determine how to best help the dog. It would be nice to be able to give a black or white answer to this question, but often there are shades of gray. Sometimes the two qualities overlap.
Let's start with the genetic issue of a shy dog. Within a litter of puppies each pup has particular characteristics: there might be an outgoing pup; a high energy pup; a confident pup; and a shy pup. As with humans, these are simply personality traits which are neither positive nor negative — they simply differentiate us one from the other.
A puppy buyer should try to select a puppy which has a temperament appropriate to the puppy's future situation. For example, Marion wanted a puppy that would be a good therapy dog in the future. With this purpose in mind, the breeder Marion had chosen suggested a puppy which was confident.
A reputable breeder will help you to assess what kind of puppy will best fit with you and your lifestyle. Why not a shy puppy? Marion and the breeder discussed the kind of "job" Marion's future puppy was going to perform, and a shy puppy would not be the choice for a pup going to meet other people.
What would be the appropriate home for a shy puppy? A shy puppy needs a lot of socialization. A shy puppy needs a lot of training. A shy puppy needs a patient and experienced dog owner.
Many people are attracted to shy puppies or shy dogs in a rescue situation. The person feels sorry for the shy animal and wants to save it. A problem arises when the "saving" comes in the form of protecting a shy animal. By letting the puppy/dog hide behind you, or by holding the puppy/dog in a new situation —- rather than introducing it to other dogs and people — you are not "saving" the dog, but rather exacerbating its shyness.
Making excuses for the animal by telling people that it does not like new situations, or people, or other animals further weakens the dog's confidence. When this happens, people are put off by the warning given by the owner. It creates exactly what the owner did not want — a barrier between the dog and new situations.
If you are going to rescue a dog, please bring someone with you. This person should be knowledgeable regarding what kind of person you are —- athletic, quiet, or outgoing — to help remind you which dog fits into your lifestyle. Whether you enjoy reading every night or going for a run every night — it is important to consider this before you adopt a new member of your family.
So where is the gray area of a shy dog versus a nervous dog? A nervous dog may be edgy, restless, pacing, panting, or have difficulty settling down in unfamiliar circumstances — yet they may not be shy. They may be very willing to meet new people and new situations.
Can a shy dog become a nervous dog? Yes. Can a nervous dog become shy? A dog's nervousness is symptomatic of other problems. When nervousness arises from insecurity, and this is combined with a predisposition to shyness, the dog may grow increasingly shy and nervous due to limited exposure to new situations.
When selecting a new dog, it is most important to look first at yourself. As clothing stores often say, "Fit is everything" — and you want your new dog to be a good fit in your home for many years.
Julia Levitt is the founder of In Harmony Dog Training (www.inharmonydogtraining.com) in Ann Arbor. She can be reached at julia@inharmonydogtraining.com or at 734-645-4707. Julia provides individual training for dogs and their owners, and also conducts dog training classes at Ann Arbor Animal Hospital.