Posted on
Thu, Feb 3, 2011 : 10:45 a.m.
Is sleeping with your dog or cat really unhealthy? Researchers at the CDC say so
By Lorrie Shaw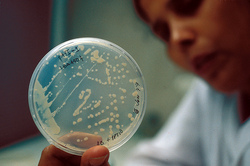 flickr photo courtesy of IRRI
I frequently highlight the relationship between pets and their people and in so many ways, everything is so intertwined. We not only live under the same roof, we play together, sometimes work together — and some of us even sleep together. Yes, in the same bed.
In our home, the dogs are not allowed on the furniture and definitely not in the bed. Much to the chagrin of our two large-breed pooches, the cat will hop up on the couch (he's the alpha, you should know) and chill out on my lap, and occasionally sleep at the foot of the bed. He actually prefers to snooze in an out-of-the-way area, like under my desk, where there is a heat vent or in his kitty bed. I will note, though, that if I take a rare nap, he's right there with me!
But, in many homes, it's very common for people — in different cultures even — to have their pets in bed with them at night, especially with kids.
According to "Zoonoses in the Bedroom," a study published in the February issue of the CDC Journal Emerging Infectious Diseases, there is serious cause for concern for this practice, especially for children and the immunocompromised.
Zoonoses, or diseases transmitted between animal and human — have long been focused on and are a real cause for concern. Whether it be hookworm, Bartonella or other parasites, or fungal infection like ringworm, the inherent risks are endless, but in most cases rare.
The paper, published by co-authors Bruno Chomel, a professor at the University of California-Davis school of veterinary medicine and an expert in zoonoses and Ben Sun, chief veterinarian with the California Department of Public Health give a stern warning: pets don't belong in bed with humans.
And, you have to understand, these researchers study these diseases and possible risks for a living, so before you scoff at their recommendations, take note.
The main risks of pets snoozing with their people? Contracting diseases associated with flea bites, cat scratches and getting face-licked by dogs.
MRSA (Methicillin-Resistant Stapylococcus aureus) is on the rise with pets, too.
Contracting a zoonotic disease is always possible, especially if you have a chronic illness, or if you're a little kid. Children do not have immune systems that are as sophisticated as an adults are, which can put them at risk.
The good news is that zoonotic disease transmission is a rare occurrence.
All in all, the bottom line is this: If your pets are healthy, you have a much better chance of staying free from zoonotic disease, too.
Here are a few tips, whether you sleep with your pets or not:
Regular wellness check-ups by your veterinarian are a must.
Ensure that your pets have their shots updated. This includes rabies, of course, and leptospirosis. My dogs get the Lyme vaccine as well. Lyme disease is transmitted via tick bites.
Employ great handwashing habits. It's good for too many reasons to say. Be sure to do so after picking up after your dog and after cleaning the litterbox. Handwashing is especially important in those with reptiles, to guard against Salmonella infection.
Be sure that your pet is on heartworm as well as flea and tick preventative. Many diseases are transmitted via flea and tick bites.
Don't let your pet lick your face.
Cover sandboxes when not in use.
All in all, there is no need to be germ-phobic, only mindful of the risks.
Lorrie Shaw is a regular contributor to AnnArbor.com's pet section and wrote Plan for your pets' safety and care in the event of an emergency. Follow her adventures as a owner of Profession Pet Sitting on Twitter and reach her via e-mail.