Posted on
Mon, Feb 4, 2013 : 6 a.m.
Small dogs can be big trouble to train, but proper socialization is key
By Julia Levitt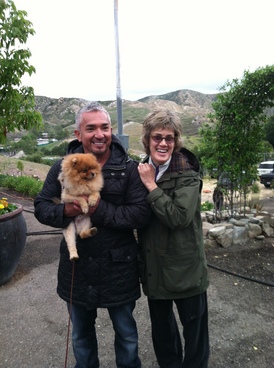 Julia Levitt | Contributor
I'd like to share a real life story that has a happy ending.
I'd like to tell you a story about the most difficult dog I have ever trained.
No, it's not the most aggressive dog I have ever trained. No, it's not the most fearful dog I have ever trained.
This dog weighs only eight pounds. People take out their cell phones to take photos of this dog when he is out in public because he is a cute little dog with a big personality. His haircut makes him look like a little lion.
The most difficult dog I have ever trained... is my own Pomeranian. He's little, but he thinks he's the Big Man on Campus. We named him "Tot Man of Ann Arbor."
I knew I was in trouble the day I went to the breeder's home to pick up Tot Man, who was already six months old. The breeder threw a washcloth down on the kitchen floor, and Tot Man promptly lifted his leg and peed on it. My reaction was simple and quick — I screamed silently to myself "Oh no!"
In Tot Man's defense, he didn't know any better. This was the way he was raised. I flew Tot Man home in a small crate placed under the seat in front of me on the plane. He didn't make a peep the whole way, until we got home. And then the fun began. Or should I say, the tears began!
Tot Man may be small, but he has a big dog mentality. So when Little Big Man moved into our home he believed — as he was brought up to believe in the breeder's home — that this was his castle, and we humans better get in line!
I have found that when puppies have the run of the house, they become anxious. Guarding the whole house is too much for them. The home becomes their possession, and soon the humans in the home become part of the plan. This is not really guarding, but fear.
Puppies need to feel relaxed, confident and secure. The puppy should always be on a leash or confined if you cannot keep an eye on them. Fear becomes a big part of the motivation for guarding a home. A calm, secure, well-balanced dog does not need to bark incessantly when anyone arrives at the door.
I always remind people taking my puppy class "The great thing about having a puppy is that you have a puppy — but the puppy needs time to grow up." This requires time and patience on our part.
So Tot Man learned he could not patrol the house. He learned boundaries. The next thing he learned was how to walk on a leash. When our three-mile walks a day were not enough to burn puppy energy, we enrolled in agility class. Yes, the Little Big Man learned to jump, and climb, and follow directions.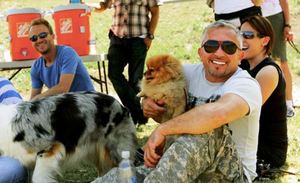 Fast forward to last April. When I took a seminar with
Cesar Millan
at his Dog Psychology Center, Tot Man was the only
toy breed
at the workshop. Nothing phased him. My proudest moment was watching Tot Man go on a pack walk with eight big dogs, some of whom weighed 10 times as much as he weighs.
Tot Man walked along with complete confidence. The other dogs paid no attention to him. He was just another dog in the pack. Some tips for small and toy dog owners:
• Think like a dog. Dogs feel most comfortable when they are on the ground — not when they are being tightly hugged by us or peeking out of a purse.
• If you are unsure about meeting a big dog — always be safe — cross the street. You cannot depend on anyone else to control their dog
• Your dog has to know that you are in charge and that you will protect them, so they don't feel like they have to protect you.
• Make sure little dogs are properly socialized. Take them for walks; to the dog-friendly bank; on car rides.
There is no reason that every small dog can't be a good will ambassador — just like Tot Man of Ann Arbor.
Julia Levitt is the founder of In Harmony Dog Training (www.inharmonydogtraining.com) in Ann Arbor. She can be reached at julia@inharmonydogtraining.com or at 734-645-4707. Julia provides individual training for dogs and their owners, and also conducts dog training classes at Ann Arbor Animal Hospital.