Posted on
Tue, Jun 12, 2012 : 3 p.m.
Area experts join forces to edify families of special needs children about the benefits of Social Support Therapy Dogs
By Lorrie Shaw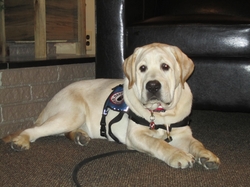 Photo by Michelle McCarthy
There are so many ways that being in the presence of a pet improves our quality of life. Whether you're talking about simply lowering our blood pressure, giving us a reason to get off of the couch and move our bodies, or even helping us to make our final transition more peaceful while in hospice, the public acceptance of animals that play a role in our daily lives that's more than being a house pet has come a long way, for certain.
Service dogs for many of us, have been something that we've grown accustomed to seeing out in public, and having one has been a hard-fought battle for those who really need them.
Typically, these canines may be doing different things, such as walking alongside their handler's wheelchair, and it seems to 'make sense' because we think that we can easily surmise why the person has the animal with them.
But what about when you see dog like this flanking a human handler who seems to have a degree of function that we normally wouldn't associate with needing the help of such a highly-trained animal?
In those cases, there's more than meets the eye: Some of the reasons that necessitate having one can be seemingly ""invisible."
But assuredly, as two local experts attest, whether one's needs for having an animal that is specialized in assisting humans in these capacities are easily seen or not, the benefits are equally profound and life-enhancing.
Mark Bowers, PhD, a pediatric psychologist with the Ann Arbor Center for Behavioral Pediatrics, specializes in working with children with autism spectrum and other neurodevelopmental diagnoses, has seen how a special category of dogs have enhanced the lives of a handful of his patients and their families.
As Bowers notes, these kids can struggle socially — especially when they get into the second and third grade-level.
"The dogs help them open up, and they can be an ice-breaker, especially in a school setting."
And it's not hard to see why. Dogs have a way of getting people of all ages to relax, to become more open; to let their guard down. And, that can mean on both sides of proverbial fence.
Bowers adds, "A dog's abilities can be highly specialized, and you can tailor their training to a specific need" that a child has.
These Social Support Therapy Dogs, as they are referred to, not only provide much needed emotional support to children and help with social skills, but they teach concepts like empathy for others. What's more, they encourage social interaction with others as well as exercise and physical activity.
The Social Support Therapy Dogs are also helpful because they can participate in therapies to improve speech and coordination.
An upcoming seminar in Ann Arbor will give families, clinicians, speech and occupational therapists and educators answers about how Social Support Therapy Dogs can be beneficial, not just for the child, but the family as a whole.
Parents or guardians in this situation can feel isolated from others, socially. The dog not only provides non-judgmental companionship but facilitates an outlet for expression, just like the child.
The dog can also be a great help to assist parents in conveying concepts more effectively to their children, like self-control and developing self-discipline.
"If a child won't get out of bed in the morning, it can be much more effective to send in the dog to help rouse the child by nudging them and licking their face than having a frustrating battle on your hands," says Bowers.
Who can say 'no' to a happy dog, right?
The seminar, Pawsitive Comfort - Special Dogs for Special Kids will be held on Wednesday, June 27 at Pioneer High School from 7-9 p.m.
Bowers, who completed his graduate training and thesis on the therapeutic uses of animals in helping children and the human/animal bond is just one half of the equation when it comes to Social Support Therapy Dogs. Michelle McCarthy of K9 Homeschooling and a Certified Therapy Animal Consultant uses her expertise to help raise and train Therapy Dogs.
The doctor is also a huge dog lover, and when he heard about McCarthy's work in raising therapy dogs, he approached her about joining forces to help children with special needs and their families.
During the seminar, McCarthy will go over the process of raising, training and working a therapy dog. Bowers will discuss the "goodness-of-fit" between child and animal, including temperament, behavior, and needs.
Bowers — who also helped to develop a mobile application for iPhone to assist individuals with social skills difficulties — says that not every child is well-suited for having a Social Support Therapy Dog.
"There are so many variables that come into play when trying to make a determination as to whether or not a child can handle being around a dog."
Certain behavioral issues and areas of self-regulation may make it prohibitive.
On the flip side, not every dog can be a Social Support Therapy Dog, McCarthy notes.
Families with a special needs child (children with visual impairments, learning disabilities and even Traumatic Brain Injury) can be helped by sharing life with a Social Support Therapy Dog, and even those who have never had a dog are good candidates for a therapy dog.
Despite the unique abilities that the dog possesses, it's important to remember that he is not a machine and is really a part of the family. They require the care and attention that other dogs do — even more so.
"Ongoing training for the dog is necessary to help assess and keep up with the child's changing needs," adds McCarthy.
"Families must keep up with this care. There is so much invested in these dogs in terms of money and time."
The attention to care and ongoing training brings up another lesson dogs can help kids build on — learning responsibility.
McCarthy, who is also a nationally recognized Certified Dog Behavior Consultant with the International Association of Animal Behavior Consultants (IAABC), usually trains one animal per year as a therapy dog.
To register for the seminar, click here or call Ann Arbor Rec and Ed at 734-994-2300.
Lorrie Shaw leads the pets section for AnnArbor.com. Catch her daily dog walking and pet sitting adventures or email her directly and subscribe to AnnArbor.com's email newsletters.