Posted on
Wed, Oct 19, 2011 : 6 a.m.
Sport horses (and riders) need good core muscle strength to promote back health
By Kathleen Lundberg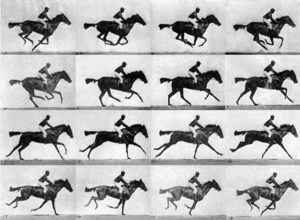 Eadweard Muybridge | 1878
Riding puts a strain on a horse's back. While
back trouble
may occur in all sports and in all breeds, the best research is conducted on
racehorses
and the main culprit is speed, according to researchers at
Michigan State University
.
Dr. Narelle Stubbs, researcher at the McPhail Equine Performance Center at MSU, has studied race horse cadavers for years in Australia, Hong Kong and here in Michigan. "At the sports we've looked at, racing has the highest number of back injuries."
While thoroughbreds are made for speed, agrees Dr. Stubbs, "Horses in the wild don't gallop for a mile or more. They do little, short sprints. You do most damage at extended gaits, and especially when you flex or twist the spine at the end of each movement." In other words, when the joints between the back's 56 vertebrae are fully extended, rapid and forcible flexion bearing the weight of the horse and its rider again and again can cause damage.
Dr. Stubbs adds, "It's rare to find a race horse off the track that does not have a problem in the vertebrae, whether it's 2 years old or a retired 15 year old."
Dr. Hilary Clayton, specialist in the biomechanics of equine movement at MSU, studies race horses for several reasons. There is a consistent level of injury and of terminal injuries (those requiring euthanasia) in racehorses, making them more often available for investigation.
Other factors helpful from a research standpoint are that racing is conducted on flat ground, on similar footing, at one (full) speed and in one direction. Racehorses are started under saddle as yearlings or 2 year olds. Jockeys are small and use the same riding style. Stabling, handling and training styles are similar everywhere.
"Our research relates well to sports other than racing ," says Dr. Clayton. "A racehorse can fracture its pelvis coming out of the starting gate because it pushed harder with one leg and experienced torsion of the pelvis."
This sounds similar to a polo pony changing direction at the gallop while carrying a 200-pound man whose weight can turn a 15-hand, light-footed twirler into a struggling ferry.
"In polo, acceleration and deceleration are both potentially damaging to the spine, along with superimposed twisting that comes from the turning and leaning of the rider. Another major stress is going from standstill to gallop."
She added, "The forces of deceleration on injury are as important as acceleration when your joints experience high-force impact. The extreme is like whiplash in a person in a car accident." Similar forces may apply to gymkhana, reining and cutting horses.
Drs. Stubbs and Clayton recommend strengthening the core to counteract the forces, and have authored a book ("Activate Your Horse's Core: Unmounted Exercises for Dynamic Mobility, Strength & Balance" by Sport Horse Publications) describing their techniques. "Stability is equally or more important than mobility," says Dr. Clayton. "Our exercises strengthen the muscles around the spine and create a balance of stability and mobility."
Dr. Stubbs adds, "Cross-training horses can develop dynamic strength. Dynamic strength is what allows a gymnast to balance on the rings and lift her legs. The gymnast is actually stable, but the movement requires great core strength and stability."
The goal of training, Dr. Clayton explains, "is to train the muscles to help the ligaments to support the back against other forces — such as when a jumper lands with all the weight of the rider and the horse pulling down the spine between the front legs. Our exercises train and strengthen these muscles so they can stabilize the horse's back and protect it from over-loading. Both horses and riders need core strength."
This column was written by Tania Evans, of Riverbend Equine Appraisals and edited by community contributor Kathy Lundberg for AnnArbor.com.