Posted on
Sun, Dec 27, 2009 : 1:30 a.m.
St. Nick brings smiles to Ann Arbor PetSmart
By Debbie Ann
Pet owners from far and wide have traveled to the Ann Arbor PetSmart to visit with jolly old St. Nick . He came to town early this year to help bring a little joy to pet owners and help raise money for the Great Lakes Rabbit Sanctuary. PetSmart graciously donated all the supplies and provided the location, while volunteers from the Sanctuary showed up to give their time for the event.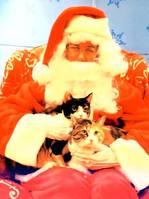 St. Nick and cats help raise money for Great Lakes Rabbit Sanctuary. Picture taken by Michelle Rodgers.
Each pet posed for pictures with St. Nick, and their owners had the option of joining in. Pictures were then developed on the spot and put into a keepsake frame. Volunteers saw a variety of animals wearing all sorts of ensembles. It was amazing to see how creative the parents of the four -legged children were.
A very handsome turtle fully dressed for the occasion,came to see St. Nick complete with antlers! Volunteers even met a 15-month old St. Bernard puppy named Beau and his Mastiff brother, Buddy. Some parents brought in their children with hats, sweaters, coats, even collars with jingle bells.
A great time was had by all. It was exciting to see how friendly everyone was with each other. In all, St. Nick and the volunteers raised close to $1,000.00. Half of the proceeds will go to the Great Lakes Rabbit Sanctuary.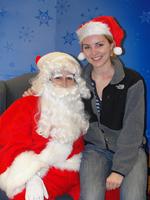 Volunteer Karyn French of Ypsilanti takes time out to get her picture taken with St. Nick. Photo taken by Shelly Pinter.
Store Manager, Mike Curristan, said the PetSmart foundation is happy to help shelters any way they can. When customers check out of the store, each sales associate asks the customer if they would like to donate to the PetSmart Foundation. On average, each store collects $180 everyday. With thousands of stores across the country, the foundation is able to collect a lot of money and in turn give back to local rescues like Great Lakes Rabbit Sanctuary.