Posted on
Tue, Oct 5, 2010 : noon
Stay out of the crossfire: reducing the risks to your dog during hunting season
By John Spieser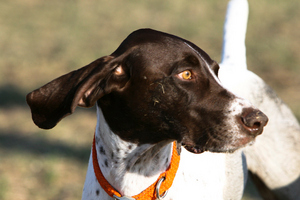 Photo by Jerry Buffman
As I write this, deer stands and hunting blinds are being repaired and erected. Firearms are being prepped and tested. The sporting goods stores are humming with the patronage of anticipation-swelled hunters getting ready for this year's hunting season.
Fall in Michigan brings with it an exhilarating energy that is magnetically appealing to many of us. Animals are on the move, as the changing colors and crisp air blend with a slight sense of desperation, encouraging everyone to take their last warm breaths of sunshine before winter freezes us in. Our dogs are feeling it, too.
So this is also a time when all of us, hikers, hunters, bird watchers, cyclists, disc golfers, etc. (and all of the dogs we own) should take extra measures to respect one-another's endeavors and safety, due to the fact that we are all sharing this vibrant moment in nature, together.
I have, over the years, heard many stories about dogs who were either killed or lost during the hunting season — dogs of both hunters and non-hunters alike. This is basically a by-product of the reality that these activities are taking place within close proximity to each other simultaneously, and dogs get caught up in the "crossfire", so to speak. If you are the type of person who engages with and investigates nature with the company of your dog for whatever purpose, it is important to stay alert during hunting season.
When I break it down I see basically four different scenarios of vulnerability that can occur when dogs and hunting are mixed inadvertently, or too casually. They are:
Dogs being mistaken for game and shot.
Dogs being spooked by gunshot and going into flight mode.
Dogs being drawn off boundary or away from their handler by the scent of gutted game.
A loose dog that is not where he belongs chasing or scaring away game.
Hunting or companion dogs can end up lost, injured or killed as a result of precautions not being taken. Here are some measures we can all take to limit the potential for mishap:
Know your boundaries: Whether you are a hiker or a hunter you should know where you are and what is going on around you. Although there are many "non-hunting" areas where you can hike with your dog, the space could butt up against private or state land that is designated for hunting. It is important that nature-lovers and hunters are aware of these shared boundaries so they can respect one another's safety and enjoyment.
Wear bright clothes when hiking: "Hunter's orange" is a good choice. This makes you and your dog more easily identified. I know Cabela's carries orange dog vests and collars, and it's likely you can find them online or at local pet stores.
Maintain close tabs on your dog: Don't take your dog out if you don't have good control and make sure that you have a visual connection at all times. Always keep your dog on a leash in areas where it's required, or if you have any doubt about your verbal control.
Be especially aware, or avoid taking your dog out during the early morning hours and at dusk. This is prime hunting time.
If you know your dog is easily spooked by loud noises, then avoid potential hunting areas altogether. The season doesn't last forever and there are other things you can do to keep your dog happy, safe and stress-free.
If you want specific info on the entire hunting season schedule, check out the Michigan DNR website. But here is a breakdown of the deer hunting season which is the most pertinent to this topic: Bow season started Oct. 1st and essentially goes through Jan. 1st with some down time (Nov.15th-Dec.1st) in between. Gun season (the most critical time to be aware) is Nov. 15-30th with a later (anterless) season from Dec.20th-Jan. 1st.
There are other seasons like small game and turkey that don't draw nearly the number of participants as the deer season, but if you're interested the complete schedule is available on the DNR website.
In short, be aware, take precautions and remember that, like you, your dog is naturally inspired by the transitions of the Fall season. He may decide to kick up his paws and root out some mischief. Keep a close eye on him!
John Spieser is a professional dog trainer and owner of Dogheart. He can be reached at john@doghearta2.com.