Posted on
Wed, Jan 2, 2013 : 6 a.m.
Monitoring a pet's stools can help you be a better caregiver to any species
By Lorrie Shaw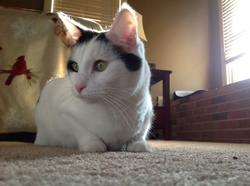 Lorrie Shaw | Contributor
Non-verbal communication is one of the things that we humans can learn a thing or two about from
pets
. They rely on it, and we have a tendency to ignore the skill as we feel that our capacity for spoken language sets us apart.
Being mindful of non-verbal cues is crucial in sharing life with pets, as most of us have learned, and implementing one habit can tell us volumes about them and their health: looking at their stools and waste.
During a meet and greet with a prospective client, I note that checking the contents of the litter box, the stool of a dog or examining the droppings on the bottom of an exotic bird enclosure is crucial to what I do. It helps me gauge if there are problems with a pet's health and to what degree, as well as helping me start an all-important timeline.
I look for changes in consistency and color and if there are things that shouldn't be in there, like blood or visible parasites.
It's helpful to relay this info in my daily reports to clients — and if need be, the pet's veterinarian — and, additionally, if there are issues that arise after being released from my care, the family can more confidently start a dialogue with the family's veterinary clinician should changes in health arise.
Noting the elimination habits of exotic birds is especially helpful. Even if a client prefers that I not change the liners of a bird's cage, (which is often not the case) my peering around on the bottom of the enclosure to check to see what's been going on is for me, necessary. Often, you can detect if pressure sores are present, or if other issues are rearing their head by seeing where waste is piling up.
So, the next time that you grumble about having to pick up after your pooch in the cold, scoop that litter box or clean your exotic pet or bird's enclosure, remember that you'll be gaining valuable information by doing so and by paying closer attention.
Lorrie Shaw leads the pets section for AnnArbor.com. Connect with her on Google +, on Twitter @psa2 or e-mail her directly.