Posted on
Wed, Aug 21, 2013 : 7:30 a.m.
Students in the veterinary hospital - pupils and teachers both benefit from fresh perspective
By Lyssa Alexander, DVM
Photo by Flickr user Horia Varlan
Getting into
veterinary school
is tough. A lot of people want in, which makes admissions very competitive. In addition to good grades, excellent test scores, letters of recommendation and essays, veterinary schools also assess candidates by the amount and type of veterinary experience they have.
Admitted applicants usually have hundreds to thousands of hours of experience logged. This experience serves the dual purpose of ensuring that candidates are dedicated and also that they know what they are signing up for.
Supporting this system of extensive veterinary shadowing requires a large network of veterinarians who are willing to have high school and college age students follow us around while we work. While the prospect of an eternal audience can be daunting at times, I usually find it energizing.
There is no better way to fight off monotony than having an interested student excited to learn what you're doing. Even routine cases seem exciting when you get to share them.
Just this week I had a case of ear mites in a kitten. Ear mites are fairly common and are generally nothing to get too excited about for an experienced practitioner. However, giving my students the opportunity to look under the microscope and see those critters wriggling around made the case thrilling for everyone.
At my practice, we have had students shadow with us on numerous occasions. One of our local high schools sends students out to a wide variety of sites to gain career perspective. These high school students usually come for a few hours a day over several weeks.
Some of our students have specific aspirations to attend veterinary school and arrange their shadowing experiences independently. We try to stagger our schedule so that we only have one student at a time and we don't have a backed up waiting list, but otherwise the amount of time a student wants to spend with us is largely up to them. Some of our students have put in hundreds of hours at our clinic.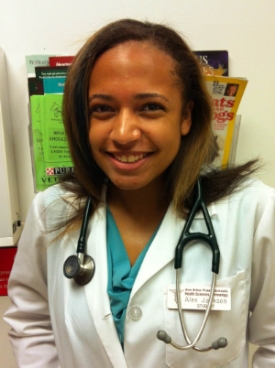 Lyssa Alexander | Contributor
I love teaching. I look up information for almost every disease condition that comes my way, even if it is one that I am very familiar with.
Sharing this information with my students as I work through a case helps me process my thinking clearly and come up with a cohesive way to educate my clients about their pets' conditions. In this way, I feel that my students are a great asset to me. Just as a teaching hospital is always striving to make sure that students are learning the most up-to-date information, I am constantly propelled forward by wanting to give them the best experience possible.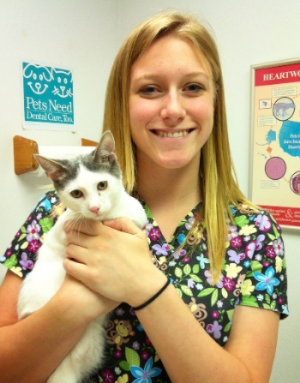 Lyssa Alexander | Contributor
I think that our students get a lot out of the experience as well. With few exceptions, we allow them to be involved in every aspect of our practice. They see puppies and kittens and learn about wellness care and prevention. We explain how we interpret blood work and have them look at radiographs with us. They watch surgeries and observe as we try to solve complicated cases.
They have seen great successes, and difficult losses. It is a very maturing experience in many ways.
I remember how important my own shadowing experience was for me. On my very first day with a large animal veterinarian, I saw two horses pass away. Illness and death are always close at hand in the world of medicine, and learning how to cope with that reality is of vital importance to a career in veterinary medicine.
There is joy, too, however. Our students have also seen sick animals pulled back from the brink, seen baby animals brought into the world and had encounters with numerous cats, dogs and exotic critters. Veterinary medicine isn't for everyone, but for those who are truly interested, there is rarely a dull moment.
Thank you so much to all the students who have added so much enjoyment to my work.
Links for more information on veterinary careers:
1. AVMA summary site on veterinary school applications
2. My article about how to become a veterinarian
Lyssa Alexander, DVM treats small and exotic animals and pocket pets at All Creatures Animal Clinic.