Posted on
Wed, Jun 29, 2011 : 5:46 a.m.
Leaving a pet in a hot car can prove to be a deadly situation
By Deb Kern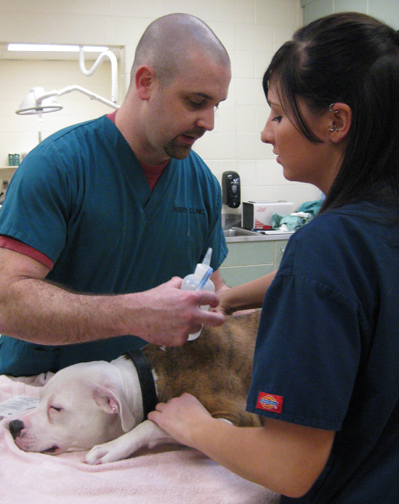 Photo by Ann Edwards, HSHV Staff Member
A hot day can be deadly to a pet left in a
car
.
Most people are well intentioned when they take their best friend for a ride in the car, but when the temperature is over 70 degrees, it's best if Fido stays at home.
On hot — or even warm — sunny days, the inside of a car heats up very quickly. So often people say, "But I left the windows cracked", but the Humane Society of Huron Valley's Animal Rescue Team can tell you first hand, leaving the windows cracked is not enough!
A dog's normal boy temperature is about 101 degrees Fahrenheit. When your pet's temperature gets over 102 degrees, his normal cooling process stops working!
If the temperature outside is over 70 degrees, in just 10 minutes, the temperature inside a car can reach 102 degrees or hotter.

In just 30 minutes it can reach 120 degrees.


At 110 degrees your pet may have just minutes to live. They could suffer heatstroke, leading to collapse, brain damage or even an agonizing death.
If your pet becomes overheated, take emergency action. Give your pet a cool-water rubdown to immediately lower his body temperature and then get to a veterinarian as soon as possible for a thorough examination.
Allowing a pet to be harmed inside a hot car is considered animal abuse. It is illegal and it is punishable by fines and imprisonment.
If you see an animal in distress or locked in a parked car and you can't locate the owner of the car quickly, you need to take action. If you live in Washtenaw County, call the both the police department in your area and the HSHV Rescue Hotline at 734-661-3512.
The Humane Society of Huron Valley is an independent 501(c)(3) nonprofit organization serving all of Washtenaw County, Canton and Plymouth, and relies solely on donations from businesses and individuals to support our community programs. The mission of HSHV is to promote responsible and compassionate care of all animals in our community.
For more information, call 734-662-5585 or visit www.hshv.org.
Deborah Kern is the marketing director at the Humane Society of Huron Valley and can be reached at 734-661-3527 or deb@hshv.org.