Posted on
Wed, Feb 2, 2011 : 7:33 a.m.
Teaching the future generation about the Americans with Disabilities Act
By Ronald J Wiedbusch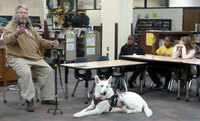 Ronald Wiedbusch | Contributor
Having worked in the Ypsilanti School District for over 30 years, late January is always special to me because we celebrate the birthday of one of our countries great leaders of civil rights, Dr. Martin Luther King Jr. I delight in helping educate young people about the sacrifices and the gains that resulted from this titan of a figure. Civil rights goes beyond racial issues and extend into areas that I have a lot of personal experience in,
disabilities
.
The gains in civil rights for those of us with disabilities are what have united me with my best friend and assistance dog, Storm. Thanks to George H. Bush Sr., the Americans with Disabilities Act (ADA) was signed into federal law in 1990. It set the table for many of the advances that have made those of us with disabilities able to have full, productive lives.
Every week, Storm and I go to many of the schools around Washtenaw county to give presentations about disabilities, the ADA, and how anyone can overcome anything with the right attitude. I want to share with you a bit about one such program I put on for over 250 students at Estabrook Elementary School in Ypsilanti, MI
In this program, the first things we talk about are the civil right gains that have been achieved over the past 50 years in many social areas. I ask the students to tell me what the word "civil rights" means to them and I am always encouraged by the answer of "equal treatment for everyone" that many students replay with.
The next topic I cover is the ADA and if anything students know about it. I explain to them it's the reason that we have ramps into schools, push bars over door knobs and many other changes that help everyone have equal access to everything.
I then invite the students to look around the library or think of things around the school we are meeting in and try to point out many of the things they see that might help someone with a disability. As the list grows and grows with things such as special bathrooms with rails, an access ramp into school pools, the push plates on doors to come into the school and wheel chair accessible lunch tables, they start to get a good idea of the many ways the ADA has help improve people's lives.
This is when the light bulbs start to go off and I ask them what do they notice about me?
"You have a cane and you are always with Storm!"
I tell them that's right, I have a disability and Storm helps me get though my day. That's the job of an Assistance Dog, to not only be a wonderful friend, but also help me in my day to day life. There are many people who are being helped by the wonderful work that these animals do.
Sharing with them my own personal story of a broken neck from a car accident, and the many difficulties that are a result of that accident, they get a good picture of what a single moment in life can do. The idea that a split-second accident can change your life is a scary thing, but because of the ADA, there is a law working to help those with disabilities continue a complete life.
"What does Storm help me with," they ask. The only easy answer I can ever think of is "everything." While he helps in a number of areas of my life, the most important is stability as without his help I'm almost sure I would be living my life in a wheel chair.
Storm wears a special harness that has a handle and is extra heave to help me support myself. He is trained to not react to any external actions, but instead keep by my side at all times so that I can always count on him.

Ron Wiedbusch | Contributor
Along those same lines, he helps me get up if I happen to fall over. This is one of the most amazing things that Storm can do as I am in no way a small man. He has such strength that he is able to make himself as rigid as steel, while I use him to climb my way back to my feet. The amazing thing is that for him, I'm as light as a feather, and he is not stressed by this at all because of his training of how to control his own body.
I demonstrate this for the students by getting down on the ground and use Storm to get myself up. The students are always amazed by the fact that he does not even move a muscle when I use him in such a way, and all he seems to ever want is a kind word and a pat on the head for his efforts.
(This is part 1 of a 2-part blog about our visit to Estabrook Elementary. Part 2 will talk all about Storm, his training and skills, along with explaining the difference between many types of certificates a dog can receive).
Storm" Wiedbusch is a certified Assistance, Service, Rescue and Therapy Dog who, along with his handler, Ron Wiedbusch, are now regular contributors to AnnArbor.com's pets section and work in the community to raise awareness about Assistance and Therapy Dogs and the Americans with Disabilities Act. The pair can be found at various places in the community throughout the week, and each day patrolling the area around Ypsilanti Public Schools as part of the Safe Schools Program.