Posted on
Tue, Mar 8, 2011 : 6:42 a.m.
The aging cat brain: Surprising data on feline cognition
By Lorrie Shaw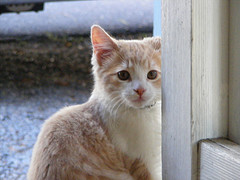 flickr photo courtesy of EnergeticSpirit
We all want our cats to live as healthy and happy a life as possible, and for the most part, we focus mainly on their physical condition. But is that the only thing that we need to be looking at?
Research and common sense indicate that the answer is no.
Feline cognition has been studied since the 1970s, and this research might even aid in revealing issues with the human brain.
There are a lot of parallels in our brain and that of a feline. One area that researchers are very interested in with regard to cats is the cognitive function of the senior population and how to keep it at an optimum level.
The differences in the way that young cats and older members of their species behave, interact, react and play vary, and for a couple of reasons: breed —and how much external stimuli is available to them.
The truth is, we know a lot more about dogs and how they think than we do about cats. As owners, we tend to pay closer attention to the behavioral changes in canines, probably because we interact more as far as games, training, things like that. Also, it's much more common to bring dogs into social situations, so changes in their cognition are more evident.
Another reason that cats get the short end of the stick in this respect: We tend to think of them as more aloof, independent.
The 1990s showed a shift in the understanding of cognition, as researchers needed to assess the effects of feline immunodeficiency virus infection on the brain.
Scientists know that lesions appear in a cat's brain as they age, much like they do in humans. When these plaques form and are accompanied by other negative factors like cardiovascular issues, and other organs that aren't as efficient, other problems can begin — like the decline of cognition and overall brain function.
There are medications indicated to help offset some of the peripheral causes of cognitive decline in cats, but what the experts find is more effective is ensuring that the amount of environmental stimuli that our furry friends get throughout their lives is sufficient. That means interactive toys, playing games and providing physical challenges that your cat is able to manage.
Other notable things include the use of foraging toys, which I highlighted a few months ago on my blog, and tapping into one of a feline's most powerful senses — their sense of smell. It's one that they seldom lose with age, and you can use it to help them stay interested in things by way of stimulating one of their strongest drives: hunting.
These activities help keep the neurons and synapses firing, and reinforces the premise "use it or lose it". This concept has applied to humans for a long time, as well as other animals, so it's no surprise that cats can benefit as well.
The bottom line: Cats don't grow out of play and learning. We do that for them by way of our interaction and the provisions that we make for them. If we maintain the same standards to enhance their mental fitness for felines from cradle to grave, we can ensure a better quality of life for them.
Read more about feline cognitive decline here.
Lorrie Shaw is lead pets blogger for AnnArbor.com and owner of Professional Pet Sitting. Tag along on her daily dog walking and pet-sitting adventures on Twitter @psa2 or contact her via e-mail.