Posted on
Wed, Feb 3, 2010 : 3:55 p.m.
The Ann Arbor Sheep: An urban legend comes to live at SASHA Farm
By Amanda Hitt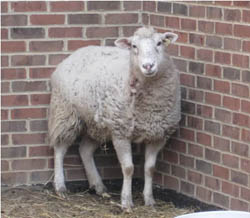 A couple of months ago,
SASHA Farm
(Sanctuary and Safe Haven for Animals) started getting calls from
Ann Arbor
residents about
a sheep who was running loose
in the city. They were concerned for her safety and the safety of motorists in the area that she was living, and hoped we could help.
We tried several times to capture her, but she was a crafty girl with knowledge of the wooded areas there. Each time, we went home empty-handed, and waited for the next sighting. We weren't the only ones trying. We were told that the Ann Arbor police department and many community members had tried as well.
There were rumors of near misses, stopped traffic and failed tranquilizer darts. The longer she was on the loose, the more her legend grew. We started tracking sightings online and found several dating back to October.
We hadn't heard anything for a couple of weeks and were starting to fear something bad had happened to her. Then last week, we got a call from an employee at Art Van Furniture. She'd been sheltering behind their building for quite some time.

The employees had provided her with food, water and bedding, but she had a wound on her neck and was losing wool. They were afraid she wouldn't make it through the winter. We were so glad to hear that she was once again frequenting a single spot and that they were caring for her. But we also worried about her health, so we made her capture our number one priority. A chase through Ann Arbor, especially with the traffic there, seemed too risky. Even though the situation seemed critical, we had to be patient.
SASHA Farm's own Monte was given permission to set up a portable pen in the area she had chosen to sleep every night, and, even though she had eluded such attempts in the past, this time it seemed maybe she was tired of fending for herself. Within a few hours, she walked in to the pen and stayed through the night.
Then the morning of Jan. 29, an employee at Art Van called to say they had had managed to get the pen closed before she could run out. We quickly hooked up the trailer, hoping she wouldn't figure out how to jump out of the pen, and headed for Ann Arbor.

After some expert sheep wrangling by Monte Jackson and volunteer John Rogers, she was loaded up and headed for the sanctuary with a quick stop in between to see Kara from The Veterinary Standard, who decided that her injuries were definitely due to a dog attack. She cleaned her up and prescribed antibiotics for an infection that was beginning to set in. She also told us that her wool loss is due to stress, and that she'll be fine once she settles in with us.

We're so happy to have her here. Heartfelt thanks to everyone cared for her this winter and who made her rescue possible, especially the folks at Art Van. Freedom is a wonderful thing, but the city is no place for a sheep, and being alone is very stressful for an animal meant to live in a herd. We're confident that once her wounds start to heal and she can live in a herd with other sheep again, she'll realize that for a lone sheep, sanctuary is the best kind of freedom.
Amanda Hitt is the shelter manager at SASHA Farm, Manchester, Mich. The farm's mission is to provide a safe and secure environment, lifetime care and medical treatment for unwanted, neglected, misused and abused farmed and domestic animals, as well as fostering through education a better understanding of these animals. You can contact the farm at (734) 428-9617, or visit their Web site at www.sashafarm.org.