Posted on
Fri, Jul 15, 2011 : 8:26 a.m.
Questions to ask yourself before adopting or rescuing a dog
By Julia Levitt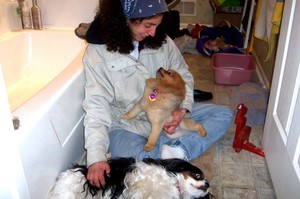 photo by Don Levitt
Sue called me excitedly last week: "Julia I just adopted a new puppy from a foster home — I'd like it if you could come over and help assess him and then give me some training tips."
The first thing thing I noticed when I came in the door of Sue's home was the loud barking — I saw Pete in his crate, and I asked Sue to open the crate and put a leash on her new pet.
Sue tentatively opened the door of the crate, and Pete shot out of the crate, zooming past Sue to me. I took a neutral stance, standing quietly, not making any eye contact until Pete sniffed me.
I was lucky. Sue has been bitten by Pete.
While Sue was very enthused about rescuing a dog, a few things could have been checked off her list before she impulsively rescued Pete.
When you meet a new dog for the first time does the dog exhibit these behaviors?
1) Does it cower when you approach it -— trying to hide behind the person it is familiar with, not wanting to greet someone (like you) new?
2) Does the dog pull and strain at the leash in excitement, then jump and nip at you after it has dragged the person at the end of the leash to greet you?
3) Does the dog approach you, quietly sniffing you, afterward content to lie back down?
Which answer does Miss Harmony choose?
When people say they have rescued a dog, it should never never be taken lightly. These dogs come with baggage, and this needs to be recognized and addressed.
Please: When you consider rescuing a dog, assess these things about yourself:
Are you a high-energy person? Do you excersize lot? Do you enjoy having a canine companion accompanying you in the sports you do?

Are you a medium-energy person who likes to go for a stroll but does not want to run a couple of miles a day?

Are you a low-energy person who loves to stretch out on the couch with a book or watch your favorite team play? Are you the type who might go for a walk once a week, around the block?
If this is dog from the local shelter, go visit more than once. If your top choice has been adopted, consider the next dog on your list. Yes, you should always have more than one choice. The dog you see in a photo may not be the kind of dog with whom you want to share your home.
When it comes to online rescue organizations, the same advice applies: Ttime must be spent with a dog. This is going to be a large part of your life.
As for breed rescue groups, these groups are very picky where the particular dog goes. Our friend made fun of an adoption group saying, "Why does it matter where my dog sleeps?"
It matters because rescue groups are rescuing a dog from a less than desirable situation. They want to be sure the next home the dog has is a better fit than the first.
If you see a person sitting outside the supermarket trying to get rid of a puppy, I question the person's motives. Why don't they bring it to the humane society? Who are the puppy's parents? How can this person assess the kind of home the pup is going to? Has it had its puppy shots? Why are they getting rid of it?
Foster homes for pets are great — what would people do without these generous unselfish people caring for a dog, knowing it will adopted to another home? However, even when adopting from a foster home, there are questions to ask yourself.
Make sure you know what kind of behavior your future pet exhibited at the foster home. What kind of behaviors did it learn from other dogs in the home? They might be destructive. Additionally, does the dog have exposure to other people.? Is it OK with cats if there might be cats in its future home?
It is not the job of the foster home train your future dog, but like with anything other pet adoption situation, ask questions! The dog must be appropriate for your home.
Lastly, I have met people who proudly say the dog they are adopting was abused, but while the sentiment is noble, they might not know what they are getting into.
Do you know how to care for an abused dog? What form of behavior does the dog you are adopting exhibit? Is it possible the dog was put up for adoption because the people who owned the dog could not work with destructive, aggressive, fearful, or otherwise unmanageable, behavior? Can you?
Ask yourself some hard questions before you adopt a dog just because it has pretty eyes or soft ears!
Only you know the answers to these questions. If you think I am being too hard, remember 3-4 million dogs a year are euthanized because people didn't ask themselves these questions.
Julia Levitt is the founder of In Harmony Dog Training (www.inharmonydogtraining.com) in Ann Arbor. She can be reached at julia@inharmonydogtraining.com or at 734-645-4707.