Posted on
Sat, May 7, 2011 : 11:23 a.m.
The Human Stability Quiz: How to look at life from your dog's point of view
By Julia Levitt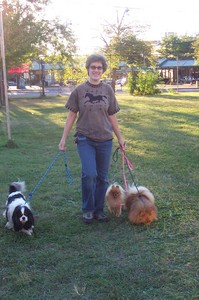 photo by Don Levitt
Now all of you are effective pack leaders — right? No? What went wrong?
One of my clients said, "I did everything you said but … how come what you showed us isn't working?"
Let's take the Human Stability Quiz!
"Come on, Julia," you say. "I have a responsible job. I take my kids to piano and soccer. I am president of the PTA. No one is a more effective leader than me!"
I am sure you are all of these things and more, but let's see how your dog rates you.
Do you start the day by:
1) Sleeping in past the alarm ringing and then rush to get everyone out of the house on time? As you are in the car, do you say to yourself, "I forgot to take the dog on his/her walk this a.m.! Oh, I'll get to it his evening!"
2) You pick the kids up from school and head first to a practice session then ballet, and this one has tutoring. You get home, you are beat, but that report you didn't have time to finish at work is calling to you!
3) The dog looks up at you hopefully. "Not tonight," you tell him/her.
4) You come home a little late — the dog has been alone for more than eight hours. You had a stressful day at work, someone is not doing well in math, there's dog poop all over the house and look, has that chair corner been chewed too?
5) You've had it with that dog! You start yelling and pointing. The dog cowers and looks, well, apologetic. Why can't that dog learn to pee and poop outside?
6) Time for vacation. Off the dog goes to the kennel. While you are away, you fantasize, "It is so pleasant and lovely without the dog!" You look around guiltily as if anyone could read your thoughts!
O.K. Time for the quiz. Ready?
If you have answered YES to six questions, give yourself 6 points.
If you answered YES to 4 questions, 4 points.
If you have answered NO to six questions, you win!
So you say, I haven't heard the word "stability" used in your blog once!
Stability is measured by a dog as one who calmly looks out for their needs — providing protection and direction. This means not forgetting a walk. Morning and evening. And not just around the block!
It means being let out of the house in a reasonable amount of time — not having to wait more than eight hours to pee/poop.
It means providing a bone to chew while the "pack" is gone for the day.
It also means — don't take out the frustrations of life out on me!
For our next blog, I've had a request to address barking. Until next time...
Julia Levitt is the founder of In Harmony Dog Training (www.inharmonydogtraining.com) and writes a blog for Ann Arbor Animal Hospital. She can be reached at julia@inharmonydogtraining.com.