Posted on
Wed, Aug 11, 2010 : 10:05 a.m.
Therapeutic Riding Inc. helps riders with disabilities — and provides rewarding experience for volunteers
By Lorrie Shaw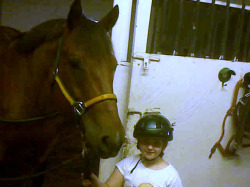 Lorrie Shaw | Contributor
The therapeutic benefits of pet ownership, or the simple act of being in the midst of an animal like a dog or cat has been long known. Lower blood pressure, the release of feel good hormones - endorphins - lower stress levels and so much more. Perhaps it's because pets interact with us in a non-judgmental way, and with patience, too, that most of us typically respond so well to them.

The same theory has been applied and taken a step further: the interaction of humans and horses. It's a long-held belief that horses have a very intuitive way of communicating with the humans who are caring for and riding them. I had the opportunity to spend a few hours at Therapeutic Riding Inc. in Ann Arbor on a rainy morning in mid-July and I saw the magic firsthand.
The benefits of horseback riding
Abby Austin has been riding horses at TRI for about 3 years. After being in a car accident at age 3 that caused limited functionality in her left arm as well as necessitating C1-C2 fusion on her spine, Abby's mother, Lyndsay, started bringing her to TRI to ride horseback.

During the course of her spending time at the facility, learning to ride and control a horse — and so much more — has improved Abby's physical condition. Abby, an effervescent 7-year-old, arrives much earlier than her weekly Saturday riding appointment to groom the horse that she usually rides, B Smiley, a red roan Quarter Horse gelding - which she's learned to do in an additional training program at the facility.

Abby has quite a bond with B Smiley, and he with her. In trying to get a picture of them together, the jovial banter between the two became evident as the mischievous equine started nodding his head up and down as Abby settled in next to him to get into position for the photo.
Jan Vescelius, TRI's director, keeps a close eye on the day-to-day operations of the facility. She's spent most of her life centered on horses, and is a North American Riding for the Handicapped Association (NARHA) certified riding instructor. TRI relies on experience and input like hers, as well as the hard work put in by volunteers who act as side walkers and horse leaders.

Founded in 1984, TRI has offered riding lessons to individuals as young as 3 and even well into their 60's that have various disabilities, whether they be physical or cognitive, like cerebral palsy, Down syndrome and autism spectrum disorder. The act of riding horseback while providing therapeutic benefits is an interesting concept; it enables riders to improve strength, coordination, range of motion, mobility, and so much more.
Michelle Costello's father accompanies her weekly to ride at TRI. Costello, who is impaired due to a birth injury, gains benefit from riding, too and has done so for 18 years. The therapeutic effects are beyond physical. Like most other riders, her father adds that the self-esteem that Michelle has been able to develop is priceless.
As someone who has only ridden horseback casually once or twice, I assure you it's not easy. It takes a lot of work on the part of the rider and horse. A rider has to exhibit a sense of coordination, timing, balance and strength. You work muscles that you never knew that you had. There are a couple of other things that a rider and horse work on together that's equally tough: non-verbal communication and trust. And let's not forget that these animals are big.
I was amazed as I observed two separate Saturday morning sessions, which included a handful of riders each. The riders control the horses, which are guided by side walkers, horse leaders and led visually and vocally by Vescelius, who, with a clear voice directs the riders in the indoor arena. They weave back and forth through cones, sometimes increasing the challenge by implementing different props to hold as they move through their 30-minute session.
After dismounting the horses, the riders' essence seemed somehow different; they possessed a quiet confidence. Buoyancy.
One thing that I noticed during the few hours that I spent in their midst, the riders, families, staff and horses have an amazing relationship collectively, especially the families. They have a particular familiarity with each other; they share in the moments and a common, genuine understanding. It's a supportive environment.

A costly endeavor
As anyone who has horses knows: housing, feed, care and daily barn upkeep for roughly 10 horses doesn't come cheaply.
Also, more space is needed to the hold additional classes that could be held for all of the 70 or so riders who'd like to participate, but can't yet due to limited space at the current facility. In 1997, the Domino's Farms Land Development Corporation generously offered the use of a small facility where TRI is located currently, on Joy Road in northeast Ann Arbor.

To accommodate the people on the waiting list, and to expand the riding season to the winter months (now greatly limited due to the lack of heat inside the indoor arena), TRI recently purchased land in Pittsfield Township that the Lloyd and Mabel Johnson Foundation gifted to the Legacy Land Conservancy. Additional funds are still needed to build the new barn and heated indoor arena. Fortunately, with a $1,000,000 gift from Harold and Kay Peplau, a $250,000 matching funds challenge grant from the Lloyd and Mabel Johnson Foundation and the generous support of TRI's many supporters, things are off to a great start. However, additional funding is still needed to bridge the gap in the fundraising goal.
That being said, three different fundraisers are ongoing at the moment to address specific areas of need. A very willing but unpaid crew of volunteers helps to man the areas of cleanup, hands-on care (even a volunteer trained in equine massage), but money is always in need in other areas. The TRI-FECTA, TRI's largest fundraiser is in place to earn funds to support the core of the whole program - the feeding and care of the horses. The Adopt-a-Horse program has been established, offering individuals or businesses the opportunity to "adopt" (sponsor) a horse for a period of one year, to help offset the expenses related to care of the horses as well.

The Capital Campaign is in full swing to fund the new facility, to raise the remainder of funds necessary.

And as always, volunteers are always in great need. In fact, I expect that once the new facility is done, you'll be even more welcome. Experience with horses is great - but not necessary! You'll be in good company, having a blast, and even get some therapeutic benefit of your own from being in the midst of the horses and riders. For information on volunteering, click here.


Lorrie Shaw is a regular pets contributor on AnnArbor.com, pet blogger on More Than Four Walls and owner of Professional Pet Sitting. She frequently writes about the fascinating bond between animals and humans as well as other social issues connected to animals. She welcomes your contact by e-mail.