Posted on
Mon, May 20, 2013 : 10:40 a.m.
Laser therapy shows promise in treating soft tissue injuries, arthritis in pets
By Lyssa Alexander, DVM
Photo courtesy of Brandi Truesdell
One of the most exciting aspects of medicine is watching the development of new technologies that change the way we practice medicine. One of the emerging technologies in both human and animal medicine right now is
therapeutic laser treatment.
Therapy laser treatments use a high powered laser to direct electromagnetic energy into cells in a non-invasive way. This helps promote healing, reduces inflammation and reduces pain without drugs and with quick results.
There are many disease that can benefit from therapy laser. Almost any painful or inflammatory condition can be treated to some degree. Some of the common condition we treat in our veterinary patients are wounds, infections, hot spots, lick granulomas, cystitis, disc disease, joint disease, arthritis, hip dysplasia, sinusitis, periodontal disease, gingivitis, and surgical incisions.
The effects of lasers on healing was first noticed in 1967 when a Hungarian researcher observed that mice who received laser treatments in his experiments had faster hair growth. Since then, therapy lasers have been used for numerous applications.
Laser energy has three major effects on tissues. First, it causes a reduction in pain by changing nerve cell conduction and releasing natural endorphins.
The next effect of laser therapy is to reduce inflammation. This is accomplished by opening up lymphatics, decreasing the production of inflammatory cell signals and and increasing the function of local immune cells.
The final way in which laser therapy is beneficial is through increasing tissue healing. The laser energy helps promote new blood vessel production, increases local blood flow and stimulates the activity of cells involved in healing.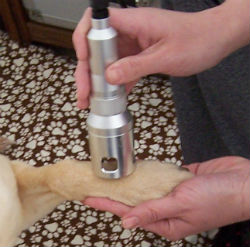 Photo by Brandi Truesdell
One area of medicine that has been completely changed by therapy laser is the treatment of acute soft tissue injuries. Our canine friends lead active lives and are prone to the same range of sprains and pulls that we are.
Previously, our therapeutic options were limited mainly to exercise restriction and pain control. Though these are both still important in treating these types of injuries, therapy laser has greatly helped to get my patients feeling better rapidly.
Another area where therapy laser has been extremely helpful is in wound care. In an age where there is increasing antibiotic resistance, any treatment that helps to reduce infection and speed wound healing is extremely welcome.
We use the laser for surgically inflicted wounds or acute injuries to help speed healing, but the increased blood supply that the laser energy promotes also helps the body fight infection more effectively. In the coming years, this aspect of therapy laser may be one of the most important ways in which it advances both human and animal medicine.
Arthritis treatment is another area where therapy laser has been extremely effective. Many of our pets suffer from crippling arthritis. This condition is so common that people often don't even recognize it.
I have had numerous clients tell me that their pet just seems to be "getting old and slowing down." Old age is not a disease in itself, but it often comes with diseases. The majority of the slowing that owners see in their old pets is actually due to arthritis.
Numerous treatments exist for arthritis in pets. Weight loss, lifestyle management, joint support supplementation and pain medication are important treatments in the management of arthritis. However, numerous additional modalities exist, such as acupuncture, physical rehabilitation, massage, chiropractic care and therapy laser.
These methods require various levels of training and expertise, but they can be a huge help when applied correctly. Therapy laser is proving to be a great tool in the ongoing fight against arthritis pain in our pets.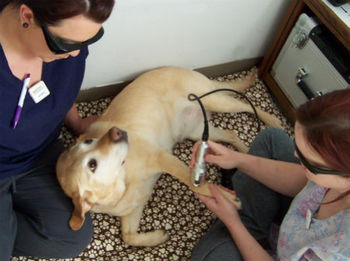 Photo by Brandi Truesdell
Therapy laser is applied in the hospital by slowly scanning an affected area with a small hand-piece. There is no pain associated with the procedure and the only sensation felt by the pet is a gentle warming. Pets seem to tolerate treatments very well.
The length of treatment and the number of treatments required is highly variable based on the type and extent of the pet's condition. Generally, acute conditions are treated with one to three applications, each lasting five to 45 minutes. Chronic conditions, such as arthritis may take six to 12 treatments over a one- or two-month period, followed by additional treatments as needed.
As time goes on we will continue to discover many new ways in which this emerging technology can benefit our pets. It has been exciting to integrate this new technology into our practice .
Lyssa Alexander, DVM treats small and exotic animals and pocket pets at All Creatures Animal Clinic.