Posted on
Mon, Nov 8, 2010 : 5:58 p.m.
Tiny pooch stays warm and stylish in Michigan winters
By Lorrie Shaw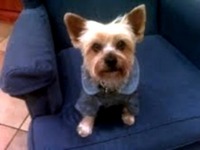 Photo courtesy of Cynthia Sims
With the cooler weather, everyone likes to stay warm - and dogs are no exception!
Chauncey, a 4-year-old Yorkshire Terrier, frequently dons his finest attire and University of Michigan football Saturdays are one of his favorite days to do so. Chauncey loves being included in day-to-day activities with his family, says owner Cynthia Sims of Ann Arbor, including car rides and going to doggie day care. Chauncey is a great example of a pooch who is enjoying life and is able to get out and experience the world.
Photo courtesy of Cynthia Sims
Is your dog a "party animal"? Does your cat enjoy outings, like leashed walks or bike rides? What unusual thing does your pet get to do? In staying true to my blog's premise of promoting the idea that pets need a stimulating, enriching and inclusive existence outside the four walls of their home, I'll be showcasing how local pet owners are helping their pets to do that.
If you have a pet — furry, feathered or otherwise — who has a penchant for getting out and about to see the world, e-mail me. They just might get featured on the blog!
Lorrie Shaw is a dog walker and owner of Professional Pet Sitting, and is a regular contributor to AnnArbor.com's pet section with her blog, More Than Four Walls. Reach her via e-mail and follow her on Twitter @psa2.