Posted on
Thu, Dec 30, 2010 : 6:34 a.m.
Tips for keeping your pets happy and safe this New Year's Eve
By Lorrie Shaw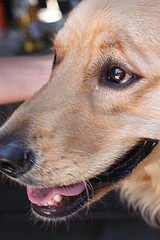 Flickr photo courtesy of besighyawn
New Year's Eve is an exciting time filled with a lot of fun, and expectation for us humans — but for pets, it can be a true source of uncertainly and fear. The onslaught of extra people in the house (or lack thereof, if you're away) can bring on anxiety, as can the noise that sometimes accompanies the festivities. Fireworks and in some cases gunfire, are unfamiliar and frightening to pets of all species.
The end-of-year celebration is also one of the most prevalent times of year that result in missing pets, as many pets become frightened and dart out open doors.

Here are a few things to keep in mind, and tips to help keep pets safe, sound and happy:

You probably have a lot of photos of your pets either around your home or floating around in your digital camera. Having a picture of each of your pets in different poses and settings could ensure that you'll be reunited with a lost pet. The Missing Pet Partnership offers tips on photographing your pet for the purpose of recovering them if they are lost.
Be sure that your pet is microchipped.


Ensure that your pet is wearing a collar with clearly marked identification that includes the pet's name, your name, address and telephone number.


If you're hosting a gathering and your pets have a tendency to be skittish of unfamiliar people, consider keeping them in an area of the home that will be undisturbed by anyone with the door shut. In the case of a dog, a crate might be an added source of security. Play soothing music, talk radio or white noise to try and block out any unwanted noise that will cause anxiety. A free download for calming music is available here.


If you find that there are fireworks or other loud noises sounded at the stroke of midnight, consider using what I call "storm treats" to try and curb a negative association with the noise. Directions to play a game involving storm treats are listed here.


Do you have a tip that you employ to keep your pet safe and happy during New Year's celebrations?

Lorrie Shaw is a regular contributor on AnnArbor.com's pet section and owner of Professional Pet Sitting. Follow her pet adventures on twitter.