Posted on
Thu, May 13, 2010 : 6 a.m.
Researchers working to understand high rates of cancer in certain dogs
By Jen Eyer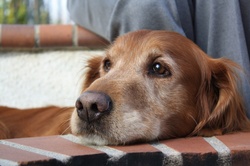 Photo by Flickr user anmuell
As someone who recently lost a 7-year-old golden retriever to cancer, I found
this article
about cancer research in goldens fascinating.

Since Bear died, I've been wondering whether we should get another dog from the same genetic line. I'm reassured to know that, according to the experts quoted in the article, "there's no evidence that cancer is more prevalent in any particular line of golden or puppies by popular sires."
"It's the breed that's predisposed to cancer, not any particular line," agrees K. Ann Jeglum, a veterinary oncologist in West Chester, Pa., who has collected pedigrees of more than 4,000 goldens and traced how lymphoma traveled through the generations.
The article also describes some of the current research on cancer in dogs. This example sounds particularly promising:
Part of the problem is that cancers usually develop after a dog is beyond her breeding years and may have already produced many puppies, notes Wayne Jensen, chief scientific officer for the Morris Animal Foundation. The non-profit research organization is helping to fund several major projects aiming to find genetic markers that could identify puppies prone to cancer well before they are considered for breeding.
Another interesting tidbit: the belief that mutts are less prone to cancer isn't necessarily true.
Jen Eyer is on the Community Team at AnnArbor.com. She leads the Parenting and Pets sections, and writes feature stories, blog posts and opinion pieces. She can be reached at 734-623-2577 or jeneyer@annarbor.com.