Posted on
Sat, May 14, 2011 : 11:38 a.m.
Unapproved pet shampoo product possibly triggered woman's deadly asthma attack, FDA warns
By Lorrie Shaw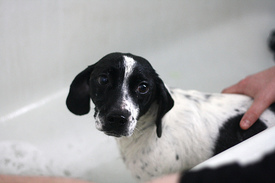 Flickr photo courtesy of ginnerobot
An adverse event report filed with the FDA describing a woman with severe pre-existing asthma who had a sudden, severe asthma attack and died while bathing a dog using an unapproved shampoo product.
Because of the nature of the report, the Food and Drug Administration has a warning for people: if you have asthma, talk to your doctor before using the product Douxo Seborrhea Shampoo.
The correlation between the shampoo and the deadly risk was reinforced after another asthmatic family member bathed the dog using the same product a few days later, and experienced a mild asthma attack. Thankfully, the person recovered.
The report was filed in March, and the FDA is currently investigating the issue. In the meantime, the agency has issued a statement that can be viewed by clicking here.
There is no indication that the product poses a health issue to pets.
The organization, which oversees safety of human-grade and veterinary products, urges individuals with respiratory conditions to talk with their doctor before using the product, which includes an active ingredient, 0.1 percent phytosphingosine.
Phytosphingosine, derived from plants and produced naturally in the body, is a pro-ceramide that is indicated for the long-term management of skin problems, according to several sources, including drugs.com.
The ingredient is indicated to help address seborrhea.
The FDA will gives updates on its findings as they become available.
The FDA gives directives on the process for reporting an adverse event involving the use of animal drug products. Click here to learn more.
Lorrie Shaw is lead pets blogger for AnnArbor.com and frequently writes about pet product recalls issued by the FDA, as well as pet health topics. Catch her daily adventures as a dog walker and pet sitter or email her directly.