Posted on
Mon, Jan 17, 2011 : 1:13 p.m.
Virus killing millions of crickets raised as feed for reptiles and other animals
By Lorrie Shaw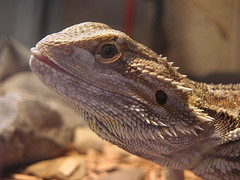 flickr photo courtesy of dearbarbie
People across North America might be finding it a little difficult to have feeder crickets on hand for their pet reptiles, and it's not their imagination: a deadly virus is decimating captive cricket populations in North America, forcing cricket farms in Florida and Michigan to close — one permanently. Pet stores are having to look a little harder to find suppliers to purchase from and are finding it necessary to use two or three as a precaution.


However, area pet stores like University Aquarium and Huron Pet Supply indicate that at the present time, there is no issue with getting their supply of the insects in stock.
Despite efforts by breeders to disinfect their facilities — including machinery and interior walls — after the virus was found to be killing off crickets, farms are finding it hard to eradicate the virus completely and get a fresh start.
So far, only a handful of facilities have been found to be affected, and to an outsider it might seem insignificant. However, considering the number of zoos, which can feed thousands of crickets to their amphibians and reptiles each month, combined with the large number of households who keep pet reptiles — The American Pet Products Association notes that United States households alone kept 13.6 million of them on 2009 — the feeder cricket industry has become big business. Crickets are sometimes used as fishing bait. Read more on how the virus is affecting the industry by clicking here.
The virus causes the insects to flip onto their backs and die from paralysis. It was first identified in North America in 2009 in the house cricket Acheta domesticus, the one commonly sold species as feed for reptiles. The virus has been known to only affect that specific species.
Previously, the virus, aptly called Cricket Paralysis Virus, destroyed European brown cricket populations in 2002. To address the issue, European farms were able to switch to different species of crickets, but in the United States, it won't be so easy. United States Department of Agriculture closely regulates the importation of insects into the country; however, they are examining possible alternatives if the need arises.
Peter Tijssen, a virologist at the University of Quebec, emphasizes that animals who eat crickets with the virus are not affected themselves.
Cory Jacques, assistant manager of Huron Pet Supply noted, "Four or five months ago when the virus seemed to be at its peak, we had a period of about a week to 10 days where we had a little trouble getting our orders from suppliers, but things are fine now," adding that the virus scare has not driven up prices, either.
Jacques says that the one problem that the store is running into is getting the sizes that they need — like medium and large crickets — which are typically fed to larger lizards. He does offer that alternatives to the reptilian diet can include wax worms, mealy worms and tropical cockroaches. For those unfamiliar with cockroaches that are used as feeders, Jacques emphasizes that they are the tropical variety and cannot survive without the 80 to 90 degree temperatures that they require, so no need to worry about them infesting your home. In fact these feeders offer a great "meat-to-shell ratio" and are quite healthy for your reptile.
Lorrie Shaw is a regular pets contributor to AnnArbor.com's pet section. Follow her daily adventures as a dog walker and pet sitter on Twitter, and reach her via email.