Posted on
Wed, Sep 28, 2011 : 4:40 p.m.
Can't teach an old dog new tricks? Not true - your pet can learn better manners and new skills at any age
By Julia Levitt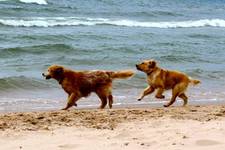 Photo courtesy of Chris Burke
When Chris and Wendy signed up for my House Party/Manners class in the spring session, they were signing up for the class for their newly arrived Golden Retriever pup, Buttercup. Chris and Wendy told me they didn't want Buttercup to pick up the habits of their older dog, Jubilation. Jubi is a 9-year-young Golden Retriever.
Chris explained that whenever their door bell rings... look out! Jubi is at the door barking and greeting the new arrivals. Never mind that she knocks them over when they enter the house!
"We didn't want Buttercup to pick up Jubi's habits, so we enrolled both of them in class to curb Jubi's overly enthusiastic ways," Chris explained.
I suggested Chris and Wendy bring their son, Robert, and daughter, Meghan, to learn how to work with the two dogs. Meghan is 7 years old and Robert is 9.

The approaches to training a puppy and a 9 year old are not as dissimilar as you might imagine. Both dog and pup need to have their energy drained.
When we discussed what type of exercise Chris and Wendy did, we found out both of them liked to walk.
Buttercup, being 3 months old, was taught to walk on a loose lead, but her puppy energy needed to be drained before any "training" began. I use the word "training" loosely, as Buttercup's attention span is about, oh, a minute or two.
It is important for Buttercup to play and drain some energy before she is taken on a walk. A very short walk. Five or 10 minutes is plenty.
When Buttercup's behavior is acceptable — no pulling or tugging on her leash — session over! It is important to find out what type of play is good for a Golden Retriever — fetching a ball or any other toy Buttercup likes. The human determines the length of time the fetching play takes. I have heard people say — I could throw a ball all day for my dog.
Jubi — the senior citizen — is a born sweetheart like so many members of her breed. When Jubi wanted attention, all she did was look up a t a human — any human would do — and then lean on them. Next step: lay down on her back for belly rubs!
Jubi had a working formula and, in her mind, why change it? Chris and Wendy did change Jubi's behavior — much more quickly that they thought. Jubi's behavior was reinforced by any and all humans who petted Jubi whenever she jumped on them and then rolled over on her back. Whenever petting is involved in an undesirable behavior, the dog is being rewarded, unintentionally, for that behavior.
The walk was another area that needed help. Jubi would drag Chris or Wendy down the street whenever she was taken for a walk. Usually walk times decrease as the walk becomes more and unpleasant.
What Chris and Wendy had going for them is the Golden Retriever eagerness to please. Jubi was taught to walk on a loose lead, and after she found out humans weren't as enthused as she was about the full-body lean, that behavior stopped.
As you can see Jubi perfectly pointed out to us humans that dogs live in the moment. They don't dwell on what happened yesterday a week or year ago. They are happy to demonstrate to us humans how to "go with the program." Dogs hold no animosity when WE would like to do things differently.
When my colleagues and I were brain storming about new blogs, one of them asked, "I wonder if you can teach old dogs new tricks?" Yes, I said. I had a 9-year-old dog in my last class, and she was the star pupil!
This answered my colleague's question and yours, too, I hope. You CAN teach an old dog new tricks!
Julia Levitt is the founder of In Harmony Dog Training (www.inharmonydogtraining.com) in Ann Arbor. She can be reached at julia@inharmonydogtraining.com or at 734-645-4707. Julia also teaches dogs and their owners at Ann Arbor Animal Hospital.