Posted on
Tue, Nov 8, 2011 : 5:44 a.m.
Does your dog's choice of sleeping position have any significance?
By Lorrie Shaw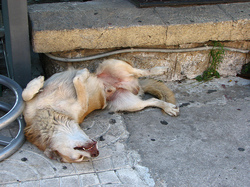 flickr photo by fdecomite
Many of us have seen it: our beloved
canines
happily sound asleep with their tummy exposed and paws up.
It seems a bit counter-intuitive when you see a pet doing it, since in the wild, this might leave them in a more defenseless position when it comes to other animals, right?
So, does this sleeping position have any significance when it comes to the behavior, temperament or age of a dog?
Dr. Patty Khuly explored this in a recent blog post, and one of the points she brings up is thought-provoking.
Are dogs that are better socialized and well-adjusted more likely to strike the comfortable-looking pose?
Over the years, having seen my share of sleeping pooches, I've made a couple of observations:
Dogs tend to do it more often during the day
Medium to large breed dogs are more likely to engage in a tummy-baring snooze
How well-adjusted a dog is doesn't seem to influence their inclination to sleep belly up
Sleeping comfortably with paws in the air, on their side or tucked in a ball seems to be simply a matter of comfort and preference.
What's your pooch's preferred mode of sleep? Take the poll and leave your comments below:
Lorrie Shaw is lead pets blogger for AnnArbor.com. Catch her daily dog walking and pet sitting adventures or email her directly.