More Than Four Walls
Pets:

Does your cat purr? Find out how they do it - and why

Posted on Thu, Aug 9, 2012 : 6 a.m.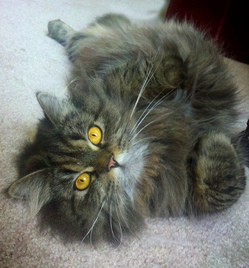 flickr photo by khanb1
Many things about cats seem to escape our understanding, but in recent years, we seem to know so much more about them than we ever have. From their health, behavior and the ability to "train" them (I use that word loosely, mind you), researchers are working harder than ever to crack the feline code, so to speak.
One thing about these creatures that has been a bit of a mystery and is unique to felines is purring.
Anyone who shares time with cats has heard this sound at one time or another, and in my experience, some do it more and some more audibly than others. I often relay to clients in my daily updates to them that their furry friend had been purring contentedly, usually during a time when they are getting brushed, petted or their ears rubbed — all pleasurable things.
Upon arriving for visits, I could usually hear one feline client purring loudly from across the room once they knew it was me in the house, and ironically enough, she was a tiny little thing. I would always say to her, "Do you have a Hemi in that thing?"
According to Dr. Barbara Sherman, Director of Behavioral Medicine at the North Carolina State Veterinary Health Complex notes that yes, cats typically purr when they are content but for each animal, the reasons do vary.
Most often, it's during pleasurable physical contact (and knowledgeable cat people know that touching a kitty's tummy is not preferred) — but researchers who have studied the behavior say that not only does it happen during favorable human-cat interactions, but cat-cat interactions as well. Other positive circumstances include just before falling asleep and when nursing (both mother and kittens).
You might be surprised to know that purring isn't something limited to happiness. Some cats purr if they are in pain.
Clinicians have said that they have witnessed a cats purring during an exam after being hit by a car. Years ago, one feline client, unbeknownst to their owner and I, had been experiencing dental pain — a sometimes difficult thing for us humans to pick up on. I remember thinking that the tone of his purring was subtly different than that of what I was accustomed to hearing him exhibit, as did his people.
Understanding that not all purring is created equal brings up probably the biggest mystery of purring: How do cats make the sound?
Oddly enough, Sherman notes, "Purring is triggered by a signal in the central nervous system. As the cat inhales and exhales, the vocal fold muscles in the larynx vibrate to produce sound bursts. These bursts occur every 30-40 milliseconds and result in that familiar purring sound."
To learn more about these vocalizations, and which felids do not purr, click here to read the original article in the Charlotte Observer.