Posted on
Mon, Nov 7, 2011 : 7:13 p.m.
Rats are ticklish? Koalas have fingerprints? Strange, true facts in the animal world
By Lorrie Shaw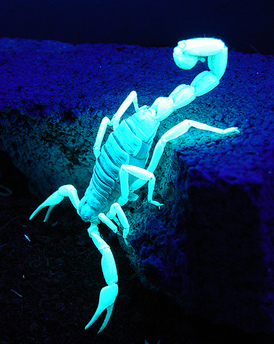 flickr photo by Furryscaly
One thing that is clear when peering into the
animal
world is that it's a fascinating one.
I never cease to be amazed at the kinds of things that I learn about pets and wild animals alike.
Mother Nature usually has reasons for the attributes that she gives members of the animal kingdom, even if it seems as though she just has a great sense of humor. Animals are born with the ability to flourish in their native environment, but can adapt rather well when the need arises.
Did you know that hummingbirds are the only birds that can fly backwards or that dolphins sleep with one eye open? Really — scorpions glow in the dark? It's true.
Here are more fun and weird facts:
When loud, fast music is being played, termites chew faster
Rhino horns are made of keratin, calcium and melanin
Slugs have four noses
Spider silk by weight is stronger than steel
Rats are ticklish
Koalas have fingerprints
An ant can lift 10 times its own body weight
Chickens can be half male and half female, or gynandromorphic
Penguins can drink salt water because of their supraorbital gland — it filters excess salt from the bloodstream.
For more amazing facts, click here to see a slideshow on Life's Little Mysteries' website.
Lorrie Shaw is lead pets blogger for AnnArbor.com. Catch her daily dog walking and pet sitting adventures or email her directly.