Posted on
Thu, Dec 10, 2009 : 6:07 a.m.
As holidays near, Ann Arbor's Morgan and York Fine Wines sees better sales
By James Briggs
When Morgan and York Fine Wines and Specialty Foods ended up with extra inventory following last year's holiday season, the retailer at least had one advantage over other stores with the same problem.
Morgan and York sells products that get better over time.
"We got stuck with lots of inventory (last year)," co-owner Tommy York said. "Luckily, a lot of it was wine, so it improved."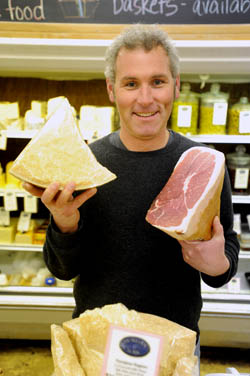 Still, Morgan and York is trying to avoid a repeat performance.
"I'd say we're being very cautious," York said. "The customer was able to clean up (last year) because most (stores) got left with more goods than customers. This year, that's not going to be the case. I've talked to a lot of retailers around town, and people are really paying attention to what they sold last year."
Even with a slight upswing in the economy, Morgan and York, which must order holiday inventory months in advance, used last year's sales as a barometer for this year.
So far, the numbers have been a pleasant surprise.
"Fortunately, we were up over Thanksgiving from last year and able to bite a little into our Christmas inventory," York said. "Now that people see two wars winding down, maybe things will turn around. I think people are reporting to me they feel more positive."
While York said the specialty food retailer has seen up to 40-percent sales declines at times, he added being in Ann Arbor has helped business stay afloat when similar stores in other locations might not have made it long enough to see an economic recovery.
"I would not want to be a retailer anywhere in Michigan but in Ann Arbor," York said.
James Briggs is a freelance reporter for AnnArbor.com