Posted on
Wed, Mar 3, 2010 : 12:07 p.m.
My daughter wants her ears pierced, any recommendations?
By Angela Smith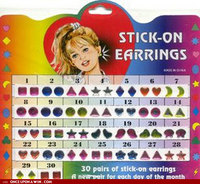 My daughter has been going to bed at night and waking up in the morning asking about when she can get her ears pierced. The standard rule among my fellow mommy friends has been
when they are old enough to request for their flesh to be pierced with a gun, it should at least be considered
. So we are considering and asking for advice on places to go to have the safest and best piercing experience.
Here are some of the recommendations I have received:
1. Ask your pediatrician.
Our pediatrician does not do piercing or recommend a particular place. The nurse told me I could contact a plastic surgeon. That seemed a bit extreme... and extremely expensive.
2. Go to Fran Coy.
www.francoysalon.com

418 South Wagner Road, Ann Arbor
(734) 665-7207
At Fran Coy the receptionist told me that they do not do ear piercing often, but they offer the service and studs for $25. The earrings are from studex, which are not nickel free.
Nickel jewelry can cause problems and allergies for many kids. But any piercer that uses the gun most likely only uses sterile studs made by studex.
At Fran Coy they were able to locate two guns in order to pierce both ears at the same time, but I was told there would be an upcharge to have two employees perform the service.

3. Claire's at the Mall has tons of experience with preteen ear piercing.

Briarwood Mall - 734 -930-1655
By far, this was the most widely mentioned place for ear piercing in my non-scientific poll. Preteens are pleased with the selection of studs, and parents are happy with the outcomes and service. When I called I was told that earrings range in price from $17-$42, and the piercing and cleaning solution are included in that price. Titanium and white gold are two options in earrings that contain what Studex calls allergy free nickel.
They do pierce both ears at the same time if you come in on a weekend or when there are two technicians working.
Piercing Pagoda and The Icing were two other contenders at the Mall that offered very similar service.
4. S.C. Tattoo and Body Piercing is highly recommended for piercings.
www.sctattoo.com
6834 Jackson Road, Ann Arbor - 734 327-4311
An Ann Arbor Townie and all around knowledgeable mom told me, "The most highly recommend place I know of is the woman out on Jackson Road. She's also a tattoo artist. She does the pros and recommends a hole punch method, not the plain needle method." This was a little more than I was ready for.
Visions of hole punchers had me rethinking the entire piercing thing.
5. Pangea is the safest and most trusted place amongst college students.
pangeapiercing.com
211 E. Liberty, Ann Arbor - 734-929-6226
Pangea, like SC Tattoo, caters to a different audience than the Claire's crowd. When I called, I got a real education from an employee named Laura. She told me that age nine is a bit younger than their average customer.
She said they absolutely do not use a piercing gun. The guns are modeled after a blunt cattle tagger, and the resulting holes are often uneven, she said. Furthermore, the tool cannot be properly sterilized in an autoclave, and cleanliness is a big deal at Pangea. In fact, a health inspector said they were the only shop in Michigan to use surgical gloves for every procedure.
At Pangea a piercing is done by hand with a disposable sharps needle and followed by a cooling sterile saline wipe. The jewelry is made of permanent implant grade titanium or stainless steel or high quality gold to insure no reactions. It is nickel free. Techs have a minimum of two years training, and they insist on doing a consultation and making kids under 12 think it over for a day before committing to the piercing.
The cost is $30 for 2 ears, and jewelry is an additional $15-$40per piece.
6. Fantastic Sam's does piercing too.
www.fantasticsams.com
2919 Carpenter Road - 734-971-8310
I contacted my daughter's favorite hair stylist, and she says she has been piercing ears for clients and for family for years. She recommends the piercing gun and says you get a more even look with one tech piercing the ears one at a time, but added she could borrow a gun from another salon if we were insistent on having them done at the same time. They use the same Studex system and charge $20 for piercing and studs.
7. What you need is a dose of humor.
Some of my friends gave detailed accounts of the trials and tribulations they experienced taking their daughters for ear piercing. Others remembered potatoes and needles in locked bathrooms of their youth. One fellow mom recommended a tequila shot - for me! (not sure they would offer that at any of the above locations). I guess the more relaxed I am with the decision I make, the better my daughter will feel about the experience.
Where would you go?
Lead Shopping Blogger Angie Smith will hunt for deals and dish on the latest in retail in Ann Arbor. Readers will attain notices of great deals, and store happenings in and around the city. To report a news item or tip contact her at angieannarbor@gmail.com.