Posted on
Fri, Jul 16, 2010 : 6:11 p.m.
Top trends for back-to-school: Style expert Bobbie Thomas reveals four trends that make the grade
By Denise J. Murray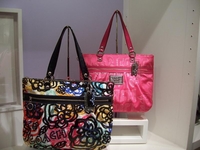 Pop-C fabric from Coach leads the way with fashion, fun and flair.
Summer is almost over and classes are around the corner, but so is the excitement of back to school shopping! Simon's style expert
Bobbie Thomas
has cracked the code on fall trends and provided a guide on how to get an "A" in fashion this fall. Thomas breaks down not only what kids want, but also why these fun fashionable finds are also functional.
Thomas is a trusted source for parents and students. Currently, millions of people wake up to catch her on NBC's "Today Show," where she serves as style editor offering relatable and reliable help. Beyond the TV screen Thomas connects with viewers online at TodayShow.com with her Style Buzz homepage, and on her own website Bobbie.com where she hosts a variety of fresh content, ideas, tips, tricks, and unique finds.
Thomas has also collected a loyal following over the past decade for her national columns. "The Buzz," featured in In Touch weekly magazine highlighted Hollywood's hottest fashion and beauty must-haves for more than seven years, and prior to that, "Bobbeez Buzz" featured in J-14 magazine, was a go-to for young girls answering questions about boys, body, beauty and more.
From backpacks to denim, kids and parents can stock up on the latest trends and must-haves for a complete back-to-school wardrobe at Briarwood Mall. Bobbie's trends for back-to-school cool:
Pop-C fabric from Coach leads the way with fashion, fun and flair.
•
A messenger bag to carry school books in style:
Coach
leads the way, with their Pop-C fabric, full of bright style, quality and fashion.
M-Den
has a jersey version, as well as a durable denim for the U-M state of mind.
Payless
has already received a large selection including plaids, stripes and faux-leather, at a great value. For the younger ones,
Justice
has a fun selection of British, leopard and initialized bags with sequins and
Gap Kids
has fun spots, sparkles and hearts, which many include attachable lunch bags.
• Lots of layers to not only look cool, but offer comfort: This has been Gap's trademark, and always offers a solid selection at a good quality. H&M has endless options, it seems, so you can give a current trend your personal touch. Abercrombie & Fitch offers the relaxed comfort of layered tanks and jerseys, while American Eagle offers jean jackets and oxford layers.
• Printed pants to make a statement: To go with PacSun's layers of tanks and woven tops, they are offering a variety of colored denim this year to help make the "personal statement."
• A cool pair of boots practical for all seasons: Justice offers a cute variety that includes black boots with studs, and gold sequins to jazz up any young girl's closet. Payless has also started to stock a few varieties of suede-style boots worn in all seasons.