Posted on
Thu, Jul 19, 2012 : 5:05 p.m.
Dave Brandon: $2.8 million, 48-foot-wide Michigan Stadium marquee 'not at all unusual'
By Kellie Woodhouse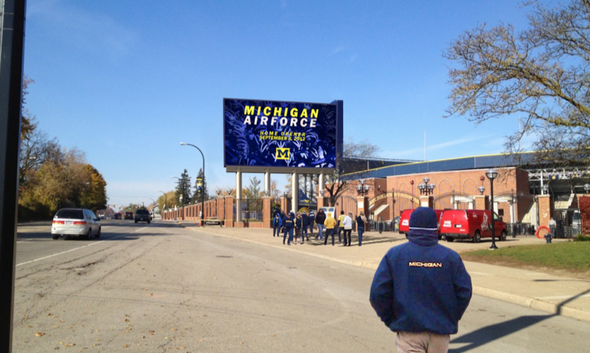 Photo courtesy of University of Michigan
The
$2.8 million marquee
University of Michigan
Athletic Director
Dave Brandon
plans to install outside the
Big House
this year will be one of the largest electronic signs in downtown Ann Arbor.
The sign will measure 27 feet high and 48 feet wide and will be placed 21 feet off the ground near Michigan Stadium, Brandon told the Board of Regents Thursday.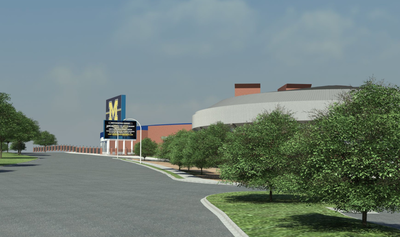 Photo courtesy of University of Michigan
The board approved the sign unanimously.
"It's not at all unusual for athletic campuses ... to have some sort of display board activity," Brandon said.
The marquee will be located in the space between Michigan Stadium, Crisler Center and Stadium Boulevard, inside gate two of the stadium.
Brandon noted that a few years ago U-M had three LED electronic marquees that were "frankly not very useful and not very appealing."
Brandon, however, plans to "do this right" this time, he told the regents.
The athletic department, which experienced a $5.8 million surplus this year, will fund the project using its own resources. The department plans to use the marquee to promote student athletes and athletic events.
Regent Denise Ilitch said people "less than enthusiastic" about the project have contacted her to complain.
Brandon, however, said he predicts the sign will cause minimal disruption to passersby.
"It happens to be across the street from a golf course so it won't annoy anybody," he said.
The marquee will be equipped with video and audio capabilities, but Brandon said the audio applications will be limited to football games and other sporting events.
Ilitch suggested Brandon consider allowing local non-profit organizations to advertise on the sign "so the community can feel part of the board that they will be looking at."
In response, Brandon said allowing third parties to advertise on the sign could be difficult because of the sheer number of requests.
"There are literally hundreds of non-profit organizations in the community that would love to have access to the crowds that we generate and the facilities that we have," Brandon told Ilitch.
Brandon is a former regent.
The marquee is part of a strategy to increase interest in attendance in U-M athletics, especially those that don't generate revenue.
Earlier this year AnnArbor.com reported that the school was planning a student loyalty program for athletic events in an effort to encourage students to attend non-revenue sporting events.
The department recently spent $20 million to upgrade its football, hockey and basketball scoreboards and plans to spend $6 million in the coming year to repaint Michigan Stadium.
Brandon has tapped TMP Architecture to design the project, which is projected to be completed in 2013.
Kellie Woodhouse covers higher education for AnnArbor.com. Reach her at kelliewoodhouse@annarbor.com or 734-623-4602 and follow her on twitter.