Posted on
Fri, Feb 10, 2012 : 9:25 a.m.
3 things to watch: No. 4 Michigan hockey team vs. No. 17 Michigan State ... indoors
By Pete Cunningham
Next year, the Michigan and Michigan State hockey teams will play in an outdoor Great Lakes Invitational at Comerica Park.
According to a trusted source, they're playing (indoors) this weekend, too.
Here are three things to watch for when the fourth-ranked Wolverines face No. 17 Michigan State Friday at Munn Ice Arena (7:35, Big Ten Network) and Saturday at Joe Louis Arena (7:35, Fox Sports Detroit).
Moffatt in for Brown
Sophomore forward Luke Moffatt will replace co-leading scorer Chris Brown on a line with Alex Guptill and David Wohlberg on Friday while Brown serves a one-game suspension for fighting in a 3-0 win over Miami.
Brown will return to the lineup on Saturday. Michigan coach Red Berenson thinks Moffatt will fill in just fine for Brown, saying he complements the play of Guptill and Wohlberg.
Brown has not only been the overall most productive player for Michigan this season, but against the Spartans, as well. He has two goals and two assists in three games against Michigan State.
Moffatt isn't far behind with a goal and two assists against MSU, including a two-assist performance in the GLI final that earned him CCHA player of the week honors.
Moffatt is up to the challenge of playing with the Wolverines' top scorers and opposite State's top line.
"It's something I've been looking forward to," Moffatt said. "Obviously Brown's been playing great the past few weekends, especially since Christmas, but it's just the same thing as always. You gotta play as well as you can. ... I'm not really thinking about filling shoes or anything. I'm just worried about doing the best I can out there."
On the power play, Lindsay Sparks or Kevin Lynch will play in Brown's spot while Moffat will stay paired with A.J. Treais and Phil Di Giusseppe. Lynch has two goals and two assists against the Spartans this year.
As far as other lineup changes for the Wolverines, no news was good news on defenseman Greg Pateryn, who received a game misconduct last Saturday against Miami. The CCHA reviewed the play and decided not to take further action.

Friends being unfriendly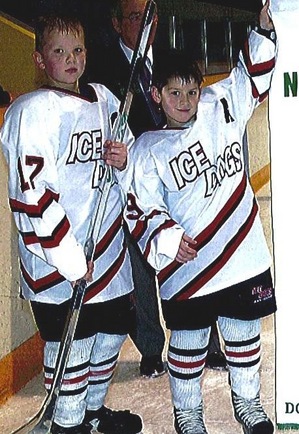 Photo courtesy Cheryl Krug
Admittedly, this is just an excuse to run the picture on the right of Michigan State captain Torey Krug and Wohlberg winning a Silver Sticks championship as 9- and 10-year-olds.
Thank you to Krug's mother, Cheryl, for sending it along.
The old teammates will be an intriguing matchup this weekend. State will have last change and if Wohlberg's line keeps producing the way it has, Michigan State coach Tom Anastos will be wise to put Krug's line opposite them whenever possible.
That will mean Michigan's top scorers will need to get defensive to keep Krug and company off the score sheet. The defenseman was named the league's offensive player of the week on Monday for his two-goal, three-assist performance against Ohio State last weekend, including a game-winner on Saturday. He also had four blocked shots in the series.
Also, expect to see Ann Arbor native and Shawn Hunwick's old buddy -- the two were goalie partners as seniors in high school -- Drew Palmisano in net for the Spartans. Will Yanakeff and Palmisano have had a steady rotation, but Anastos might be leaning toward giving Palmisano another crack at the Wolverines.
In the GLI final, Palmisano was masterful while turning away 45 shots, but surrendered a game-tying goal in the last minute of the game and the game-winner in overtime, denying the team a win and a lock at tournament MVP. Palmisano is likely champing a the bit for another chance at the Wolverines.

Chip on State's shoulder
Michigan's win in the GLI final has lingered for the State players.
"That loss in the GLI leaves a bad taste in your mouth," Krug said. "When you lose a game like that, whether or not it's Michigan, it's definitely heartbreaking. But the fact that it was Michigan left a bad feeling in the stomach."
Despite the energy of the rivalry, don't expect as many penalties as the Notre Dame or Miami series.
"It will be intense, but they play honest hockey," Berenson said. "It will be emotional, but not out of hand like it got against Notre Dame and Miami."
Even if penalties do transpire, it might not matter. Michigan State is second in the nation on the penalty kill (89.1 percent) and Michigan is coming off a weekend in which it killed 12 straight Miami power plays.
Contact Pete Cunningham at petercunningham@annarbor.com or by phone at 734-623-2561. Follow him on Twitter @petcunningham.