Posted on
Fri, Mar 9, 2012 : 8:07 a.m.
3 things to watch: No. 4 Michigan hockey team vs. Notre Dame
By Pete Cunningham
More than points are on the line this weekend when the No. 4 ranked Michigan hockey team hosts Notre Dame at Yost Ice Arena.
It's the quarterfinal round of the CCHA playoffs, which means the teams will play a best-of-three series with the chance to play in next weekend's championships at Joe Louis Arena on the line.
Michigan has advanced to the semifinals of the conference playoffs each of the past 23 years. Here are three things to watch for as the Wolverines attempt to keep their streak alive starting on Friday (7:35 p.m.).
1. Playoff hockey
It's officially the playoffs, which means intensity and hitting will be up and goals and penalties will be down.
There's no formula for playoff hockey, no particular reason players seem to play harder or better for that matter, but it's undeniably a different animal.
"Every play matters so much," said Michigan defenseman Lee Moffie. "Every play's just escalated that much more and you're playing that much harder. There's just not as much room for whatever reason and the pace of the game is just pushed hard."
For freshman forward Alex Guptill -- the leader in goals and points on the Wolverines' most productive line -- this weekend will be his first taste of the postseason. He believes he and his linemates Chris Brown and David Wohlberg are well suited for "playoff hockey."
"Our line kind of plays playoff hockey to begin with," Guptill said. "It's in the corners and cycling, things like that, so if we just stick to our game we'll be fine out there."
Michigan split its regular season series with Notre Dame in January. At the time, Michigan goaltender Shawn Hunwick said he thought Notre Dame forwards Anders Lee and T.J. Tynan were the most dangerous pairing in the country. Neither scored in the teams' regular-season series, and they had just one goal between them in a first-round sweep of Ohio State, but Hunwick is standing by his statement.
"They're a dangerous offensive team, those two guys especially," Hunwick said. "A team with its back up against the wall is a dangerous team."
Brown thinks Michigan splitting its final regular season series with last-place Bowling Green indirectly prepared the team for this weekend's matchup with Notre Dame.
"We were on a pretty high horse going into that game. I think we underestimated how tough (Bowling Green) were actually going to play," Brown said. "To have that little reality check going into the playoffs, it shows us we can be beat just as easily as anybody else."
2. Clean shaves
On Monday, senior forward David Wohlberg was sporting a pretty heavy beard, by his standards.
He assured it was a spring break beard. Not a playoff beard.
Some teams grow beards or bleach their hair for the postseason, but when it comes to playoff traditions, the Wolverines don't have too many. The only tradition Wohlberg listed was to "win games...hopefully."
The players do hand out a hard-hat after a playoff win to recognize who worked the hardest.
Even that tradition isn't taken to heart too much. Both Brown and Moffie said they've been awarded the hard-hat, but couldn't even remember when, who gave it to them or who they gave it to afterward.
"The win sticks out more than winning the hard hat," Moffie said.

3. Fielding H. Yost
No, the legendary Michigan football coach and athletic director, after whom the hockey arena is named, will not be resurrected for the playoffs. Though some Michigan fans might argue he's capable.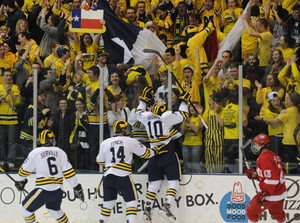 Angela J. Cesere | AnnArbor.com
What will be at the game is Yost's likeness as it's never been seen before, in the form of an 8-foot x12-foot flag.
In recent years, the Michigan hockey student section has taken a liking to honoring players with huge flags representative of where they (pardon the pun) hail. A Swedish flag was flown for former captain Carl Hagelin and Texas native Brown has the Lone Star Flag flown for him when he scores.
In mid-February, the "Children of Yost" -- as the group of fans prefer to be called -- decided to honor their father figure with a flag of his likeness. The only road bump was scrounging up the money to purchase the custom-made flag. They called out for support on the Internet and, within hours, had the necessary funds, thanks in large part to a donation from former Michigan and NHL player Aaron Ward.
A picture of the flag was posted on the Children of Yost Twitter account on Thursday, with assurances that the flag would make its debut on Friday.
Download the CCHA tournament bracket: CCHA Tournament.pdf
Contact Pete Cunningham at petercunningham@annarbor.com or by phone at 734-623-2561. Follow him on Twitter @petcunningham.