Posted on
Fri, Jan 20, 2012 : 9:48 a.m.
3 things to watch when the Michigan hockey team takes on Notre Dame this weekend
By Pete Cunningham
The Michigan hockey team travels to South Bend, Ind., this weekend to take on No. 6 Notre Dame at the new Compton Family Ice Arena.
Here are three things to watch for as the No. 10 Wolverines attempt to knock off a top-ten opponent for the third time in four weeks.
1. Dynamic duo
Notre Dame forward T.J. Tynan leads the CCHA in scoring with 31 points (nine goals, 22 assists) while linemate and fellow sophomore Anders Lee has 22 (14-8).
Both have had success against Michigan, with a combined three goals and four assists in three games played last year.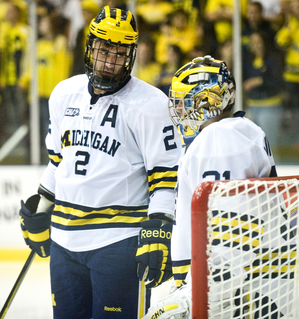 AnnArbor.com file photo
"T.J. Tynes and Andres Lee are probably the two most talented forwards in the league if not the whole country," said Michigan goaltender
Shawn Hunwick
. "Those two can put the puck in the net."
While the two are different in style — the 5-8 167-pound Tynan, more of a finesse player, the 6-3, 227 Lee, a bruiser — Michigan defenseman Greg Pateryn said both need to be handled the way.
"I think the big thing is if you get a chance to hit 'em, definitely take 'em out, kinda take 'em away from the puck," Pateryn said. "Even if you don't get him fully, you still clip 'em, you know he's definitely not going to come through the middle again."
As the home team, Notre Dame will get the last line change and be able to match up Tynan and Lee optimally with Michigan's defense. This is where Michigan's depth defensively will be crucial. Just two players on Michigan have a plus-minus rating below zero compared to Notre Dame's 13.
"We need to be aware of those players," said Michigan coach Red Berenson, adding Riley Sheahan — a former Detroit Red Wings first-round draft pick — to the list . "We've got to keep those guys from having a good game. If they have a good game then their team will probably be victorious."
2. Put away the brooms
Though Michigan swept CCHA leading Ohio State last weekend and Notre Dame was swept by Western Michigan, don't expect the Wolverines to break out the brooms again. Last weekend's pair of losses was the first time Notre Dame had been swept in 22-consecutive CCHA series, dating back to Feb. 4, 2010.
There are two schools of thought on playing a team after a bad weekend: it's a positive because you're catching them at their worst, or it's bad because they're looking to redeem themselves.
Berenson seems to think Michigan will get the latter.
"I know they'll be playing hard," Berenson said. "We know what they did last week and we know what we did, but we got to go on the road and try and do it again."
3. Nicer surroundings
The Notre Dame hockey program is finally in an arena befitting their program. If watching the games on TV this weekend — 7:35 p.m. Friday, NBC Sports Network and 7:35 p.m. Saturday CBS Sports Network — notice the newly opened state of the art Compton Family Ice Arena.
Since 1968, the Fighting Irish called the Joyce Center home. Even Berenson — who is as old school as they come — could find nothing redeeming or nostalgic to say about the Irish's former home.
"I think it was a real detriment to their hockey program," Berenson said.
A blue curtain behind the bleachers was all that seperated defensemen from fencing men as the hockey team shared the room with the fencing team at the Joyce Center.
"You'd walk in and you look to their left and it's almost like an IM building," recalled Pateryn. "There's basketball courts and kind of random stuff going on when you're playing the game there's a curtain around the stands…you don't really expect to see that type of arena at a school like that."
The 5,000-hockey specific arena will shine bright Friday night in a fan "white out" in which 5,000 long-sleeve white shirts and pom-poms will be given away.
Contact Pete Cunningham at petercunningham@annarbor.com or by phone at 734-623-2561. Follow him on Twitter @petcunningham.