Posted on
Sat, Jan 2, 2010 : 7:42 p.m.
40 facts about Red Simmons in honor of 100 years
By Jeff Arnold
50 facts about Red Simmons, who celebrates his 100th birthday on Tuesday.
1. Born Jan. 5, 1910
2. His real name is Kenneth
3. Has been called "Red" since high school when he earned the nickname based the color of his hair.
4. Was present at the opening of Michigan Stadium in 1927 after hitchhiking as a 17-year-old from Redford to Ann Arbor. Of the game, Simmons commented on Michigan's Kip Taylor - who scored the first touchdown in stadium history, "He was very modest about scoring that first touchdown and he'd always make some humorous remark about how lucky he was to be the one who did it."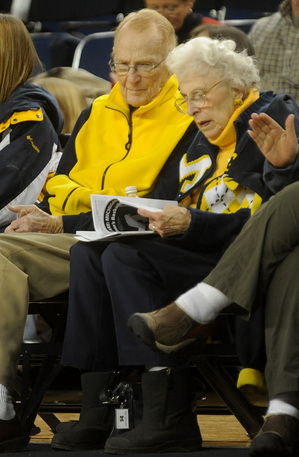 5. Originally planned to run track at Michigan, but was unable to attend after a job at a fraternity fell through following the stock market crash of 1929.
6. Attended Michigan Normal College (now Eastern Michigan university), where he paid his tuition with a job cleaning gym mats that paid $2.50 a week.
7. Met his first wife, Betty, at Michigan Normal. The couple was married until 1974. Betty Simmons was an unpaid volunteer assistant coach at Michigan.
8. During his first semester at Michigan Normal, Simmons hitchhiked every day from Redford to Ypsilanti, leaving each morning at 7:30 a.m.
9. Competed on the Michigan Normal track team, running individual events and on the school's mile relay.
10. When his grades slipped, Simmons was given a second chance after track coach Lloyd Olds and dean of men James "Bingo" Brown - who was also the state boxing commissioner - asked the university's president to give Simmons a second chance.
11. Simmons won intramural wrestling and boxing championships while he was a student at Michigan Normal.
12. After graduation, Simmons began a 25-year career with the Detroit Police Department. He ran for the department track team, often beating men half his age.
13. Struck up a friendship with Jesse Owens, who he ran against 20 times in exhibition events. Simmons never beat the track legend.
14. Retired from the Detroit Police Department in 1959.
15. Got the idea to begin Ann Arbor's first women's track club after traveling to Rome for the 1960 Olympics.
16. Took on his first runner -Francie Kraker - at the age of 14 after Betty Simmons referred the her best physical education student at Slauson Middle School to Simmons.
17. Simmons was hired at Michigan by Fritz Crisler after the Michigan athletic director learned of Simmons' addition of weights to his training regimen.
18. Received his master's degree from Michigan in 1962 - 29 years after he graduated from Michigan Normal.
19. Taught first aid, wrestling and boxing classes at Michigan while running his women's track club, "The Michigammes."
20. Once convinced Michigan athletic director Don Canham to allow women to use the same track training facility as Michigan men's team with the understanding that the women wouldn't interfere with the men's team.
21. The Michigangammes produced three Olympians - Francie Kraker-Goodridge, Sperry Jones and Micki King - only one of whom competed in a running event. Jones competed in the 1968 and '72 Olympics in kayaking while King won a gold medal in diving in 1972.
22. The Michigammes produced seven national championships and countless state track and cross country championships.
23. Simmons agreed to become Michigan's women's track coach at a starting salary of $7,000.
24. Simmons coached the Michigan women's track team - which gained varsity status in 1978 - until 1981, when Michigan placed fourth at the Big Ten indoor track championships.
25. He also coached Michigan female track and field All-American Penny Neer in 1981.
26. Simmons remarried in 1975 after Betty passed away a year later. His second wife, Lois, is the daughter of former Michigan hockey trainer Carl Isaacson. Lois Simmons is the only female member of Michigan's Hockey Hall of Fame.
27. Simmons met Lois in a bank. Lois initially refused to go out with Simmons because of the 16-year age difference. Lois' parents also didn't approve but once Lois' mother asked Simmons when his birthday was, he knew they would OK the couple getting married.
28. Simmons is a member of the Eastern Michigan Hall of Fame (1978) as well as the University of Michigan women's Hall of Fame (1994).
29. Simmons was honored as Michigan's first honorary 'M' man in 1990.
30. Simmons and his wife continue to sponsor several scholarships at Michigan, including the Betty Simmons Award, which honors the hockey team's top academic performer.
31. Simmons won four gold medals at the annual Senior Olympics in 1995 at the age of 85. Simmons set a Senior Olympian national record in the shot put in 2000 at age 90 and won age division championships in the long jump, high jump and discus.
32. He was the keynote speaker at the Michigan Senior Games celebration of Athletes in 2001.
33. At the age of 92, Simmons was part of the Public Broadcasting Special, "The Secret Life of the Brain" which examined healthy aging.
34. When asked about turning older at age 92, Simmons said. "I used to say I wanted to see the year 2000. I thought that would be great. Now, I want more. I'm shooting for 2010."
35. Simmons was mentioned in former Michigan football coach Lloyd Carr's retirement speech for giving Carr advice he carried with him throughout his coaching career.
36. Simmons received a Lifetime Achievement Award from the University of Michigan in 2009.
37. Had a track invitational named after him in 1981. The event has been run at Michigan every year since.
38. Remains active by walking the steps at Crisler Arena five times a week.
39. Attended five birthday celebrations between his birthday and Jan. 17.
40: Red Simmons on turning 100 on Tuesday: "Time - I think the older you get, the faster it goes. I am amazed at how much is involved in turning 100 years old."