Posted on
Wed, Jun 15, 2011 : 11:25 p.m.
7-footer DaShonte Riley follows coach Rob Murphy from Syracuse to Eastern Michigan
By Rich Rezler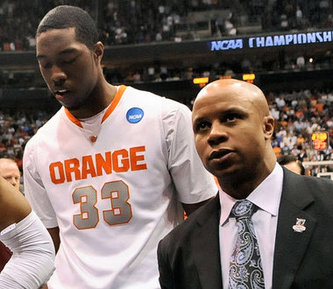 Dennis Nett | Syracuse Post-Standard
New Eastern Michigan basketball coach Rob Murphy completed his coaching staff on Monday.
On Wednesday, he started bringing in players. And the first is a big one.
DaShonte Riley, a 7-foot center, will transfer from Syracuse to Eastern Michigan. Murphy was an assistant coach at Syracuse last season.
"We're very fortunate to get a player with the ability, skill and size of DaShonte in our program," Murphy said in a statement. "DaShonte is also a quality young man which makes it great to have him join us here at EMU."
Riley, who attended Detroit Country Day High School, missed the 2010-11 season with a broken foot and was awarded a medical hardship. He averaged 1.4 points and 1.5 rebounds as a freshman in 2009-10.
"Syracuse has a great program with a lot of tradition and was a very good environment, but I wanted to be closer to my family," Riley said. "Obviously, coach Murphy recruited me at Syracuse and we already had a great connection, so that is why I chose to come to Eastern Michigan."
In a telephone conversation with Syracuse.com, Riley's mother Colette Anderson said her son's desire to return to Michigan starts with his grandparents' health.
From Syracuse.com reporter Mike Waters:
"He actually wanted to transfer back in January,'' Anderson said. "He was worried about his grandparents, but the timing wasn't good. He needed to stay and finish his studies. I wanted to make sure everything was in accord for him to make that move.''

Anderson said Riley would begin taking summer school classes at Eastern Michigan on June 27.

Under normal circumstances Riley would have to sit out the 2011-12 season under the NCAA's transfer rules. That would leave him with just two years' of eligibility. However, Riley is expected to seek a waiver from the NCAA, allowing him to play this season as well as the two following years.

Syracuse.com also reported that Murphy picked up a second transfer -- 6-foot-7 Detroit native Glenn Bryant from Arkansas.
Eastern Michigan confirmed Bryant's transfer Thursday. Published reports Wednesday noted that Bryant asked for and received a release from new Razorbacks coach Mike Anderson. Bryant also expressed a desire to be closer to his family.
He averaged 3.4 points and 2.7 rebounds in two seasons at Arkansas.
After two seasons at Macomb Dakota, Bryant attended Oak Hill Academy. According to Scout.com, Syracuse was on Bryant's list of possible college choices before he opted to attend Arkansas.
Eastern lost three players from last year's team, including one of its all-time best players in Brandon Bowdry, who averaged 19.5 points and 9.5 rebounds as a senior. Jay Higgins and Will Cooper also graduated.
Father Gabriel Richard's Darren Washington, a 6-foot-9 center, originally committed to play at Eastern Michigan next season. Washington requested a release from his letter of intent after EMU fired former coach Charles Ramsey. He will play at Robert Morris.
Ramsey's other recruit was 6-2 guard Austin Harper, who averaged 15.4 points and 9.9 assists last season at Glen Oaks Community College.