43 Washtenaw County residents finish Boston Marathon in record heat
Posted on Tue, Apr 17, 2012 : 1:06 p.m.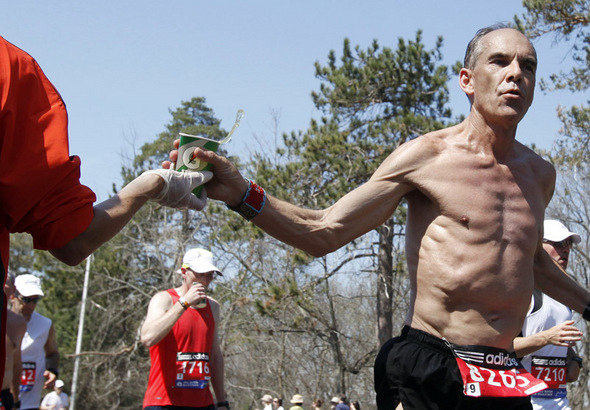 Associated Press
Note: This story was updated to include additional Washtenaw County runners.
Forty-three Washtenaw County residents were among the more than 22,000 who endured record temperatures to complete the Boston Marathon on Monday.
Temperatures of around 70 degrees at the start in Hopkinton rose to 85 by the time the top runners reached the finish line and continued to rise to a record 89 before the field finished its 26.2-mile trek to Boston's Back Bay.
Wesley Korir won the race in a time of 2 hours, 12 minutes, 40 seconds. Sharon Cherop won the women's race in a sprint to the finish to complete the Kenyan sweep.
Brendan Martin of Rochester was the top finisher from the state of Michigan. He was the 13th person to cross the finish line in a time of 2:22:32.
The Washtenaw County finishers, according to a list compiled by The Associated Press:
MEN
1107. Scott A. McLean, Dexter, 3:12:39
1276. Brian A. Boos, Manchester, 3:15:17
1759. Bob Trustman, Ann Arbor, 3:21:00
1798. Behnam Kamrani, Ann Arbor, 3:21:25
1835. Jason M Adams, Saline, 3:21:50
2120. Rob Morgan, Ann Arbor, 3:24:46
3144. Thomas Yeh, Ann Arbor, 3:35:10
3643. Phil Macbride, Ann Arbor, 3:39:18
3733. Christopher Wolfe, Ann Arbor, 3:39:58 4155. Jihn Han, Ann Arbor, 3:43:40 4485. David A Harlock, Dexter, 3:46:49 4805. Farsad Fotouhi, Dexter, 3:49:15 5315. Eduardo Matsuo, Ann Arbor, 3:53:13 5859. Adrian Carnie, Ann Arbor, 3:57:14 6242. Thomas E. Ryan, Ann Arbor, 4:00:27 7866. Tim Bracco, Ann Arbor, 4:17:31 8070. Craig Bitter, Saline, 4:19:55 8460. Bent Andersen, Ypsilanti, 4:24:28 11992. Christopher L. Carey, Ann Arbor, 5:49:48.
WOMEN
171. Melissa R Sundermann, Ann Arbor, 3:20:39
410. Anne L. Fennema, Ann Arbor, 3:30:06
1715. Tammy McCullough, Ann Arbor, 3:52:17 1078. Mary Dorazio, Whitmore Lake, 3:44:01 1163. Alexis Nees, Saline, 3:45:22 1182. Marie Wolfgram, Ann Arbor, 3:45:35 1428. Lauren Cline, Ann Arbor, 3:48:54 1503. Rachel A. Hollinger-Janzen, Ypsilanti, 3:49:56 1597. Amy Mikhail, Ann Arbor, 3:51:04 1824. Kristen Patton, Ann Arbor, 3:53:37 2081. Rosalind M. Johnson, Ann Arbor, 3:56:17 2430. Mary E. Gallagher, Ann Arbor, 3:59:46 2577. Tania L Gainza-Burnett, Ann Arbor, 4:01:26 2970. Kelly L. Vanderhave, Ann Arbor, 4:05:43 3221. Kathy Brzoznowski, Ann Arbor, 4:08:08 3425. Danie Matusik, Chelsea, 4:10:19 3641. Nancy A. Damm, Ann Arbor, 4:12:29 5150. Joan A. Keiser, Ann Arbor, 4:28:51 5210. Jocelyn M. Anderson, Ann Arbor, 4:29:27 5722. Nancy G Munson, Dexter, 4:36:04 5846. Nelda Mercer, Ann Arbor, 4:37:58 6051. Louise Callow, Ann Arbor, 4:41:16. 7138. Nina Bovio, Ann Arbor, 5:02:38. 8179. Meredith L Pedde, Ann Arbor, 5:38:49.
A total of 22,426 runners started the race -- about 84 percent of the registered field of 26,716 entrants. Several hundred who picked up their starting bibs did not show up at the start will be offered a chance to run in 2013 instead.
Organizers said that as of Monday evening, fewer than 2,000 participants had received some level of medical attention, and about 120 were taken to hospitals in ambulances. One person was taken from the course in serious condition in Wellesley, though the details of his or her condition were unavailable.
The Associated Press contributed to this report.