Posted on
Thu, May 19, 2011 : 2:10 p.m.
A consistent Amanda Chidester leads Michigan softball team into NCAA regional action
By Michael Rothstein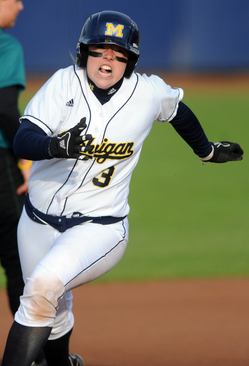 Melanie Maxwell | AnnArbor.com
Third baseman Amanda Chidester's pregame routine starts with Michigan softball manager Adam Arbour.
Arbour is one of three people who keep Chidester on track and that combination helps her avoid the second-half slumps she experienced her first two seasons with the Wolverines.
Chidester and Arbour call their 20 to 30 minutes together before home games "therapy sessions" and involve hitting, talking and sometimes screaming - although it's never personal.
It's working. With a young, unproven team around her, the junior was named Big Ten Player of the Year on Wednesday and helped her team to the No. 10 overall ranking in this year's NCAA tournament. The Wolverines (51-4) open regional action Friday at home with an 8 p.m. game against Western Michigan (25-28) (ESPN). Notre Dame (45-9) faces Kentucky (36-14) at 5:30 p.m. in the first game of the three-day, double-elimination regional.
Not that thoughts of a slump didn't haunt Chidester again this year.
When Dorian Shaw — one of Michigan's all-time best power hitters — walked almost every time she batted at the start of the Big Ten season, Chidester felt the pressure and she leaned on three people to get her out of it.
"It's really hard," Chidester said. "Working out, that's easy. It's really hard to work on getting your mental game set so anything that you're faced with is the same as always."
The manager
Arbour started receiving text messages last summer when Chidester thought she might have to replace Roya St. Clair as Michigan's catcher. She reached out to Arbour, an Ann Arbor native, who went with her daily to work out and practice blocking and other techniques.
"She knows I love going out and helping anybody early. And our personalities mesh really well," Arbour said. "We're both really enthusiastic and passionate about it."
The emergence of freshman Caitlin Blanchard kept Chidester at third base, but as Chidester started to slump in March, Arbour was there. He stressed consistency, worked on her mood, continually encouraging her.
Mentally, Chidester said, she'll sometimes pressure herself too much. So Arbour told her, "Stop, play the game." Often, this would happen during those pregame sessions where they could yell or silently hit off a tee. As they work, they'll joke about being each other's assistant coach if the other one ever becomes a head college softball coach.
They started the pregame workouts in Fullerton, Calif., in mid-March — the early days would be Arbour, Chidester and Bree Evans — and Chidester and Arbour kept it going when they returned from the road trip.
The two have become so close only he, Evans and Chidester know what she writes to herself in the dirt before each at-bat — something she refused to share.
"He has been so helpful for me," Chidester said. "He's been the No. 1 person I go to all the time.
"Without him, I would not be where I am."
The coach
Almost every Michigan player has had a "Hutch Talk." Michigan softball coach Carol Hutchins is a master motivator and has pushed players to win 1,230 games in her career.
This year, Chidester leaned on her often. And every time, she'd leave the meeting feeling better.
"I've had my share of talks with Hutch. My Hutch talks always help me," Chidester said. "Anytime I feel like she's not feeling it with me or mad at me, I know when we're not on the same page.
"So I go in and talk with her and she gives me one of her talks and we're back good again."
Chidester grew up in Allen Park and said as a kid if she played softball in college, it would be at Michigan. At the time, she also flirted with basketball, although her eventual 5-foot-9 height caused issues. So she landed in Ann Arbor after hitting .730 her final year at Cabrini High School.
And she started as a freshman. Played well. Then, toward the end of the season, she struggled even though she was named a freshman All-American. She hit .350 with eight home runs and 38 RBI. Her sophomore year, with expectations off a strong freshman year, Chidester said the same thing happened as she hit .299 with nine home runs and 41 RBI.
This year, Hutchins told her she thought too much. She started to place too much pressure on herself. It isn't uncommon, but Chidester has dealt with it better this year.
"I say the same thing to Chiddy every time. Chiddy's strength is not her talent, and she has talent," Hutchins said. "Her strength is her heart and soul.
"She's the heart and soul of our team."
The psychologist
Chidester used one other resource: Michigan Director of Athletic Counseling Greg Harden. Many successful Michigan athletes, including Tom Brady, credited Harden with helping them succeed.
Harden met with the whole Michigan softball team earlier in the year. As Chidester felt a relapse into her end-season swoons the first two seasons, she went to Harden for one-on-one sessions.
"I went in and took care of it," Chidester said. "I went in and told him how I was feeling and what can I do to get these thoughts and these fears to go away. He gave me a lot of strategies, which helped me a ton."
Part of Chidester's issue came from wanting to make and keep others happy — and taking criticism too hard.
"I just think about it too much," Chidester said. "And thinking and softball don't combine."
Harden taught Chidester to quiet doubts in her head. He stressed to her to stay involved. She also added her own mental process — something she declined to discuss.
Chidester's support group is working. As Shaw walked through Big Ten season, Chidester hit a team-high .433 with 12 home runs and 72 RBI.
"Lately, I've been feeling like this is how I play," Chidester said. "And this is how I want to continue to play."
Michael Rothstein covers University of Michigan basketball and softball for AnnArbor.com. He can be reached at (734) 623-2558, by email at michaelrothstein@annarbor.com or follow along on Twitter @mikerothstein