Posted on
Mon, Feb 22, 2010 : 9:12 a.m.
A day before the 30th anniversary of Miracle on Ice, U.S. hockey team knocks off Canada
By Michael Rothstein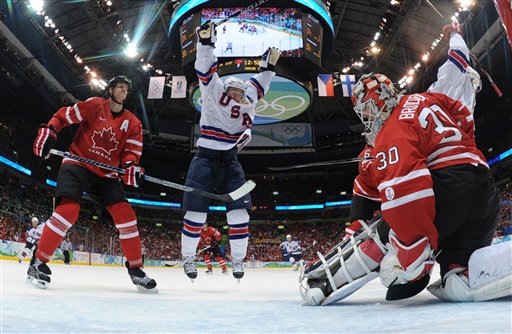 It wasn't quite beating the Russians during the height of the Cold War on American soil in Lake Placid, N.Y., but the United States stunned the hockey world on Sunday night, beating the Canadians, 5-3, in their home country.
The win has Yahoo! Sports' Dan Wetzel thinking Americans are believing in this team. The Globe and Mail called the loss "Black Sunday in Canada."
The Vancouver Sun says Canada hockey was "taken to the woodshed" by the U.S. team. Meanwhile, Chris Erskine of the Los Angeles Times asks if you've ever seen an entire nation hiccup at once. That's what happened in Canada on Sunday night.
All told, it just sets up a better road to a medal for the United States from the preliminary round.
MORE OLYMPICS: