Posted on
Wed, Sep 29, 2010 : 5 p.m.
A more appreciative Kelvin Grady thrives in supporting role with Michigan football team
By Jeff Arnold
There was a time when a supporting role would never have been enough for Kelvin Grady.
In the past, being the fourth receiving option in the Michigan football team's offense would have been tough to swallow. The former East Grand Rapids High School All-State running back liked the spotlight.
These days, Grady, a junior, finds contentment in the little things. He's happy with being one of the guys and playing a part in the Wolverines' 4-0 start heading into Saturday's game at Indiana (3:30 p.m., ESPNU).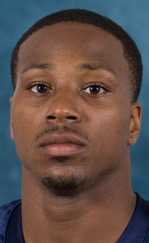 Getting to this point, though, required Grady to give up things he once took for granted, but that now mean everything.
Grady's emergence as a reliable slot receiver came after catching 10 passes last season and a training camp in which he auditioned at three spots.
Where or how much he played, though, no longer mattered. At least he was at Michigan, a school he left in 2008 after walking away from his full-ride scholarship, disgruntled with the role he had been asked to accept with the Wolverines' men's basketball team.
He returned to Grand Rapids. He found work in a nearby factory, screwing lids on lotion bottles.
"I had to hit rock bottom - sometimes you have to lose everything before you realize what you had," Grady said this week. "Sometimes, people lose a little bit, but I pretty much felt like at that point I had lost everything."
In four games, Grady has eight catches for 105 yards. His numbers don't compare Roy Roundtree and Darryl Stonum, who have accounted for much of Michigan's productivity through the air.
But in explaining his role with Michigan's offense, Grady repeatedly uses the word "blessed." This season, Grady is much more comfortable, possessing a better grasp on the offense thanks to the time he spent at different positions during fall camp.
On the days in practice when he was tempted to slack off, Grady's mind shifted to the factory when he was surrounded by $10-an-hour laborers. He now carries more of a blue-collar attitude.
"Kelvin's doing a great job not only on the field but in the time in the weight room when he dedicated himself to getting stronger - and I think it's showing out there," Stonum said. "He's not only catching the ball when he's open, but he's blocking those big linebackers. He's doing everything he's been asked to do."
Grady is on pace to graduate in December. He plans to enroll in a master's program that will allow him to use the remaining year of his eligibility. While the path he has walked wasn't what he planned when he came to Michigan, Grady is thankful for the journey.
Rough spots and all.
"It built my character, it built everything I stood for and to be able to see where I was and where I am now made me a little more appreciative," Grady said. "I'm just happy to be out here and just to be with the guys and just to have the opportunity to be on the field."
Jeff Arnold covers sports for AnnArbor.com and can be reached at (734) 623-2554 or by e-mail at jeffarnold@annarbor.com. Follow him on Twitter @jeffreyparnold.