Posted on
Sat, Jul 20, 2013 : 12:45 p.m.
A-Square Fight Club hosts Friday night boxing in Ypsilanti
By Pete Cunningham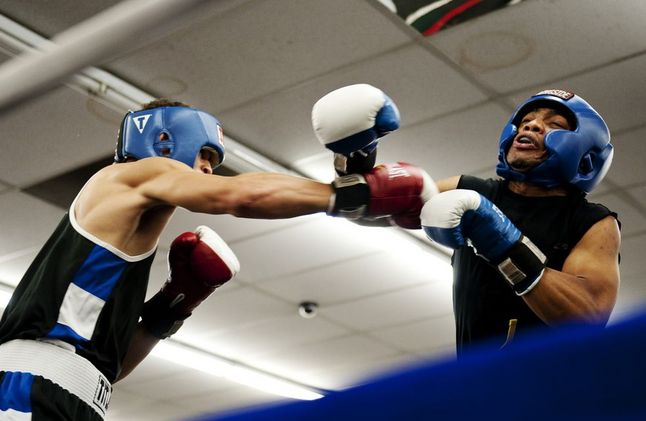 Daniel Brenner | AnnArbor.com
LaSean Holmes sat with an ice pack under his eye.
Face swollen and dripping with sweat, he smiled wide.
Thomas, a member of A-Square Fight Club, had just had his boxing match with Casanovis Williams stopped in the third round. It was the only fight of the eight that night to end before the final bell, but Holmes was optimistic after trading big blows with his opponent.
"I've only been boxing for a month and a half," Holmes said. "That was my first (fight)."
Williams, by comparison, was fighting in his sixth-ever bout. The heavy punches drew plenty of praise from the crowd of 100 or so fans, most of whom were pulling for Holmes.
"That was worth the price of admission. That's worth my $10," said one woman in the audience.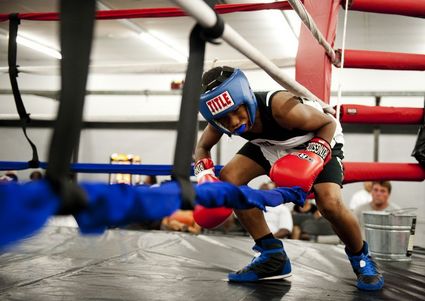 Daniel Brenner | AnnArbor.com
There were eight fights on the card at the Battle of A-Square II boxing showcase at the A-Square Fight Club in Ypsilanti on Friday. Though all three bouts involving fighters from A-Square Fight Club ended in the opposition's favor, gym owner and operator
Eric McGuire
— like Holmes — was optimistic.
"(Holmes) is getting way better," McGuire said. "All the guys who fought tonight, they did well."
McGuire moved the gym's location to its Ypsilanti location less than two years ago, at 2287 Ellsworth Road, makes the name of the A-Square Fight Club gym seem a little odd, the new location has plenty of benefits, too.
"It's just a lot more visible here," said McGuire. "We get some walk-in from people, whereas our last location was kind of hidden. People couldn't really find it."
The new gym is also significantly larger then the old Jackson Road location with room for seating, allowing A-Square Fight Club to stage showcases such as Friday's. In past years, such events would be held at the Clarion Hotel.
"This is great, because we don't have to rent a facility," McGuire said.
A-Square Fight Club's next event will be a tournament Aug. 23-25 and will feature professional as well as amateur fights, including James "Lights out" Toney.
Pete Cunningham covers sports for AnnArbor.com. He can be reached at petercunningham@annarbor.com. Follow him on Twitter @petcunningham.