Posted on
Thu, Oct 29, 2009 : 4:47 p.m.
A year after a NCAA tournament berth, people are returning to Michigan's bandwagon
By Michael Rothstein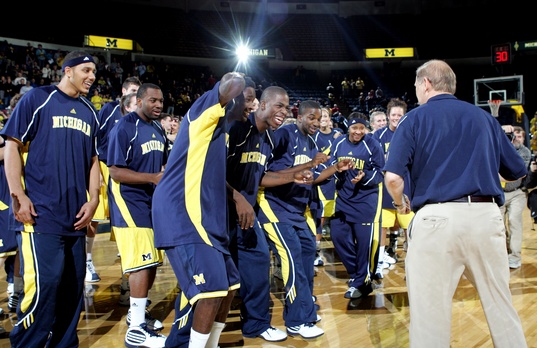 AP photo
CHICAGO - While he was home over the summer, DeShawn Sims would hear some crazy things. His Michigan team had finally returned to the NCAA tournament after a decade-long hiatus and all of a sudden, the bandwagon fans were back.
Big expectations, needless to say, followed soon after.
"You can tell that in one offseason," Sims said Thursday at Big Ten media day. "People talking crazy stuff, like you all should win a national championship this year off of one tournament appearance."
While national championship chatter is probably premature, there is little doubt Michigan is expected to be one of the Big Ten's elite team this year. While not picked in the Top 3 of the Big Ten polls - the league only releases the Top 3 in the media voting - the Wolverines are ranked No. 15 in both the AP media poll and the USA Today coaches' poll.
And as Sims said, it's all off one NCAA tournament appearance that ended in a second-round loss to second-seeded Oklahoma. But the reason for optimism is what returns to
Ann Arbor in John Beilein's third year as head coach.
There are Sims and junior guard Manny Harris, who was a first-team All-Big Ten selection by the media. There was also the emergence of Zack Novak and Stu Douglass as scoring options last year in their rookie years.
Each return as sophomores and look better than they did a season ago.
It'd be understandable if teams focused on Sims and Harris this season as they were Michigan's top two scorers and rebounders a season ago.
But to do that, Harris said, would be an error.
"I'm not going to stress that a lot because we have a lot of scorers on our team," Harris said. "If I'm not having a big game, DeShawn is going to have a big game or Stu or Zack or Laval (Lucas-Perry) or anybody on our team.
"I think we better at that this year. If they zone in on me, that'd be dumb."
Much of that came from recruiting players into Beilein's sophisticated offensive system or players who can defend both in man-to-man and his famous 1-3-1 as the Wolverines have rebuilt.
Beilein has spent time in Ann Arbor rebuilding a program through trust and through rules, perhaps faster than a lot of people expected. Hence the heightened expectations that send people going to Sims in a frenzy about national championship conversations.
While yearly national championship discussion isn't in the realm of possibility just yet, talking about consistent NCAA tournament appearances it. That, to Beilein, is stability and maintaining a successful program.
"That's where Michigan belongs," Beilein said. "If you're in the tournament every year, dang it, you've got a chance of winning it."
Winning. It's still a relatively new concept for this generation of players looking at
Michigan. But it's something that is expected out of the Wolverines now.
Harris' expectation?
"Win," he said. "Win as much as possible. My expectation is for this team to be a lot smarter than we was last year, a lot smarter than last year.
"Anything less than that, I'd be mad at myself and at the team. Just, if I feel we didn't
work hard enough. If we lose the game and I feel we didn't work the best that we can or best ourselves, I'll be mad because I know we'll be a lot better (at that) this year."
All of which leads to the question Sims heard on the streets and everywhere he went this summer.
Where will Michigan end up? Can, as some fans approached Sims, Michigan win a national championship?
"I'm as modest and humble as possible, say 'Maybe,'" Sims said. "But just hearing it, it's just good for the whole Michigan program and Ann Arbor and everyone who loves Michigan.
"It's not so much feels anything for me but for the whole, everyone who loves Michigan."
Michael Rothstein covers University of Michigan basketball for AnnArbor.com. He can be reached at (734) 623-2558, by e-mail at michaelrothstein@annarbor.com or follow along on Twitter @mikerothstein.