Posted on
Fri, Sep 3, 2010 : 3:36 p.m.
A year later, Eastern Michigan football coaches more confident in quarterback Alex Gillett
By Andrew Reid
Eastern Michigan football coach Ron English will step onto the sideline for the 13th time as a head coach Saturday evening. He's confident that he's found a starting quarterback as he works toward his first victory. Alex Gillett, a true sophomore who was thrust into the role last season when senior veteran Andy Schmitt when down with a knee injury against Michigan, will be taking the snaps against Army when the game begins at 7 p.m. at Rynearson Stadium.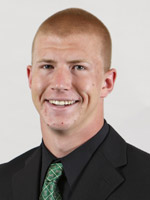 "I think that he's responded well in everything we've wanted to do with him," Eagles offensive coordinator and quarterbacks coach Ken Karcher said. "He probably wasn't ready to start last year, but he was put in that position, so we wanted to make it more palatable as a freshman. And now he's getting more confidence under the center, and we'll be able to open it up a little bit." Gillett, who was unavailable for comment this week, played in nine games last season, starting in three. His numbers were unremarkable - 68-of-137 passing for 763 yards, three touchdowns and seven interceptions - but as a true freshman on a winless team. Eastern Michigan quarterbacks were sacked 171 times last season. With more experience and another year in English's system, Gillett expects to have more talent surrounding him, both at the skill and line positions. The Eagles will stick with their power-run game, which English switched to after the Eagles had run a spread attack for several years. But this season, Eastern Michigan will try to play to Gillett's strengths, using his athleticism in the ground game, as well. "We have a philosophy we believe in that, and we think he can run the offense in that philosophy," Karcher said. "We'll be pretty much the same type of offense we've always been, but hopefully we'll be able to open it up a little for Gillett. For a while in the preseason, Gillett's seemed to be in doubt. Freshman Devontae Payne from Cleveland had a solid spring and pushed Gillett. Payne is more of a traditional pocket passer, which could make him a better potential fit for English's offense. "He's got good talent, but he's raw and undeveloped as a quarterback," Karcher said. "He's willing to learn. He's got lots of skill, and he is going to be a good player." English and Karcher know that the development of Payne will be vital for the Eagles. "If you asked me whether Gillett would have seen the field that much last year, I would have said no," Karcher said. "It's appropriate to develop a guy like Devontae. He's a talented player, and we need him to be ready."