Posted on
Thu, May 24, 2012 : 5:59 a.m.
Absent a superstar, Michigan softball team has been team-first all season
By Nick Baumgardner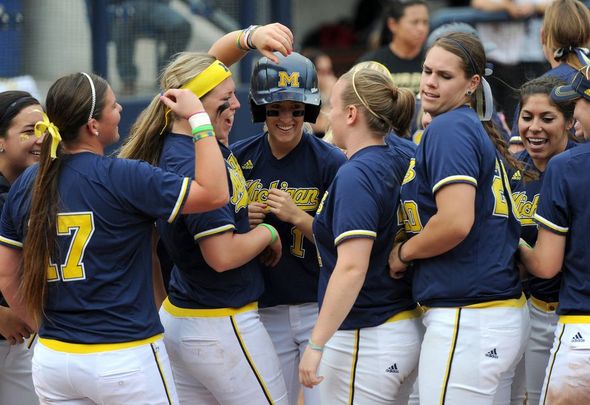 Angela J. Cesere | AnnArbor.com
For the first time in a long time, the Michigan softball team has had to do it the hard way.
The Wolverines returned All-American talent in Amanda Chidester, Ashley Lane and Bree Evans and have found an outstanding freshman go-to starter in Haylie Wagner.
But an unquestioned superstar?
Not in this dugout.
"Something this group had to learn about each other was that it was going to take all of us to win," said Michigan softball coach Carol Hutchins, who will lead her team into NCAA Super Regional play Thursday night at No.3 Alabama (8 p.m., ESPN2). "We've had a number of superstars over the years.
"This year, we're not superstars. ... And they've really embraced that."
Hutchins said she realized from the very beginning exactly how this team would have to play to be successful.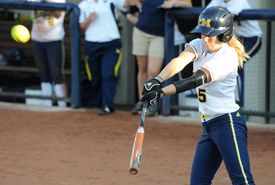 Angela J. Cesere | AnnArbor.com
During Michigan's first game of the season, against Louisiana Tech at LSU's Tiger Classic, the Wolverines three offensive leaders -- Chidester, Evans and Lane -- all went hitless.
But, as it would do for most of the season, the rest of the Michigan roster found a way -- putting together seven runs and holding on for a 7-6 win, despite getting very little from their three best players.
"We won without them," Hutchins said. "I knew then that we were going to have to have everybody help out."
Superstars are nice, for sure. But a full roster of players doing their part?
That's even better.
Michigan has gone through it all this year. Unlike in years past, when the Wolverines would cruise through the regular season with very few hiccups, this year's Michigan squad has had its bumps in the road.
The Wolverines struggled in back-to-back March tournaments -- dropping two of three at Louisville's Red and Black Tournament before going 1-2 at Cal State Fullerton's Judi Garmin Classic, including close defeats against top 10 squads Oklahoma and Arizona State.
Michigan also went through a rough stretch during Big Ten play in April, losing four times in a six-game stretch against Minnesota and Illinois.
MICHIGAN VS. ALABAMA

Comparing offensive statistical leaders (minimum 100 at bats) from Michigan (42-15) and Alabama (53-7), who start a best-of-three Super Regional Thursday night in Tuscaloosa, Ala.
BATTING AVERAGE
Michigan: Amanda Chidester, .351
Alabama: Jennifer Fenton, .381

RUNS
Michigan: Amanda Chidester, 36
Alabama: Jennifer Fenton, 61

HITS
Michigan: Bree Evans, 62
Alabama: Jennifer Fenton, 64

HOME RUNS
Michigan: Ashley Lane, 11
Alabama: Kaila Hunt, 19

RBIs
Michigan: Amanda Chidester, 45
Alabama: Kaila Hunt, 70

STOLEN BASES
Michigan: Bree Evans and Lyndsay Doyle, 6
Alabama: Jennifer Fenton, 43

And, through it all, the team was working to turn both Wagner and fellow freshman
Sara Driesenga
into ace-level starters, with a rookie catcher --
Lauren Sweet
-- behind the plate.
But, players say, the harder things got, the closer the group became.
"It was a little rough at the beginning, but I think that was a good thing," Chidester said. "I think the things we were faced with at the beginning, and even in the middle of the season, have helped us grow.
"We've been through losses, we've been through wins, we've come back, we've lost a lead. We've been through everything. In the past years, we just mercied everyone, and if we got faced with a (tough) situation, we'd be caught on our heels. ... But now, we've been through it."
The Wolverines will need to rely on all those experiences this week against Alabama (53-7). The Crimson Tide have two of the best power hitters in America in Kaila Hunt and Amanda Locke, who have combined to hit 36 home runs.
Hunt and Locke anchor an offense that scored 7.08 runs per game this season, second nationally. No. 2 hitter Jennifer Fenton sets the table with a team-best .381 batting average and 43 stolen best, the sixth-most in the nation.
Sophomore Jackie Traina went 35-2 with a 1.68 earned run average, pitching the Crimson Tide to a third-straight Southeastern Conference championship.
Making matters worse, Michigan will have to beat the Crimson Tide in Tuscaloosa, Ala. -- where Alabama leads the nation in attendance.
"They stand out all the way around, in every category," Hutchins said. "You see their pitching, their offense, their power numbers, their speed. They're as good a team as there is.
"They're the Yankees."
Michigan has been "the Yankees" before, too. The past two seasons, the Wolverines went a combined 102-14.
This year, the Wolverines already have 15 losses. That doesn't matter now, though.
They may not have a superstar in the traditional sense. But who needs one? The Wolverines have a team.
And that's more than good enough.
"I think in previous years we probably depended more on our All-American pitchers and big hitters, and this year we're more dependent on the whole team," Evans said. "Which I think makes us better."
Nick Baumgardner covers Michigan sports for AnnArbor.com. He can be reached at 734-623-2514, by email at nickbaumgardner@annarbor.com and followed on Twitter @nickbaumgardner.