Posted on
Mon, Mar 29, 2010 : 2:14 a.m.
After an unlikely run, Michigan hockey team exits the NCAA tournament heartbroken
By Michael Rothstein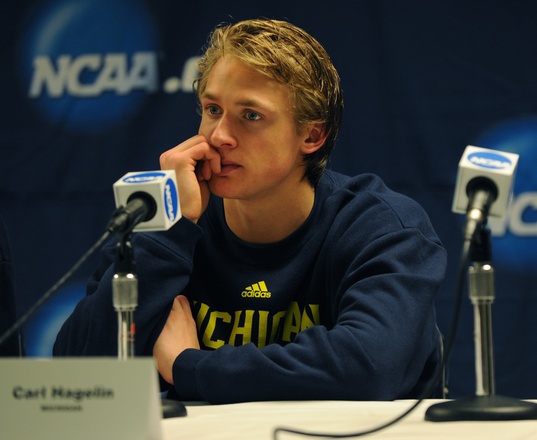 Lon Horwedel | AnnArbor.com
FORT WAYNE, Ind. - They didn't move from their spots on the ice, an entire team devastated. Heartbroken. Crushed.
Michigan hockey didn't look like they'd be in the NCAA tournament a month ago, let alone playing for a berth in the Frozen Four. Then again, the Wolverines never expected this run, this season, to end like this.
The tension rose. Every check mattered. Every shot sent a murmur through the half-maize, half-red crowd at the Allen County War Memorial Coliseum. They waited, watched and wondered when it would happened.
So as Alden Hirschfeld's wrist shot bounced off the right pad of Michigan goalie Shawn Hunwick and into the back of the net in double overtime, there was nothing else the Wolverines could do.
It's amazing how much a small black object weighing six ounces can empty a soul.
"You're just, the blank eyes just look at it," junior center Matt Rust said. "You don't know what to do. You're just so emotionally drained and everything is just sucked out of you.
"That's the only thing I can say. Every bit of energy, every bit of emotion you have, is just gone."
The Wolverines, left for nothing a month ago, played the No. 1 team in the country even for over four periods before the wrist shot erased all of that in a second, giving Miami a 3-2 win that will resonate for a long time in Ann Arbor.
In a split-second, the Wolverines' season was over. Their run, seven straight wins to be one step from the Frozen Four, concluded in cruel fashion. And in that moment, senior defenseman Steve Kampfer dropped to his knees.
Emotion spilled out of him. Did that really happen, he thought. Is this it? Am I done?
"I can't even put it into words," Kampfer said. "I was so distraught."
Soon enough, the realization settled. He was among the last in the traditional handshake line, Michigan coach Red Berenson behind him. He made it through, went back to Michigan's locker room for the final time as a Wolverine and all of the emotion of four years flowed out.
He couldn't help it. Not when his team lost like that, when everything … just … ends.
It's more cruel than a game-winning shot in basketball or an overtime field goal in football because of the randomness of it all. Any shot can go in, for either team. But it didn't for Michigan. So Kampfer cried.
And it was a well-earned one.
"As soon as I got in the locker room, that's when everything turned around," Kampfer said. "I realized my four years were over. I'll be the first one to say I was crying.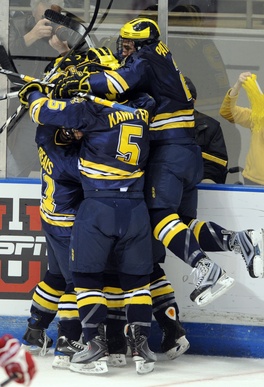 Lon Horwedel | AnnArbor.com
"I was definitely crying a lot. It's hard. It's hard to put into words."
No one really could. The emotions on their faces, as Kampfer did all he could from breaking down in a flood of tears again, showed it all. It was displayed on the beaten, battered and bruised arms of Hunwick, who sat by himself in the locker room after the game ended.
Not all the bruising came from Saturday night, it was more of an accumulation of the past three weeks, but as he put on the pants of his pinstripe suit, pulled his thin-striped buttondown shirt - still buttoned - over his head and then adjusted his still-tied tie, the walk-on who could do no wrong for three weeks stood there still looking shocked.
"We didn't think it was going to end like that," Hunwick said. "We thought we were going to come out on top."
For a while, it looked like Michigan would. It outshot Miami (Ohio) 20-6 in the first overtime. The Wolverines had multiple opportunities, including a goal waved off and another shot that hit the crossbar.
The dream run with the walk-on goalie, the still-recovering-from-injury captain and the team that was trying to play for a national championship essentially at home looked to be alive.
Between periods, junior forward Louie Caporusso said, Michigan kept reminding itself it had nothing to lose, even if in reality it had everything in the balance. They kept saying Miami is supposed to be here, they had all the pressure.
And while that's true, Michigan knew what it was playing for, too.
Then Hirschfeld stepped in and ripped it all away, sending Michigan into a locker room filled with silence and tears.
"Just dead," Caporusso said. "It was just a dead locker room. That's what happens when you come so far and it's just taken right from under you."
Michael Rothstein covers University of Michigan sports for AnnArbor.com. He can be reached at (734) 623-2558, by e-mail at michaelrothstein@annarbor.com or follow along on Twitter @mikerothstein.