Posted on
Sat, Oct 31, 2009 : 8:50 p.m.
Second-year turnaround? How about a U-Turn to last year for Michigan football?
By Michael Rothstein
CHAMPAIGN, Ill. - The fan stood in the front row at the 50-yard line behind Michigan's bench, and his mouth wouldn't stop.
He kept going. And going. And going. And if you were him in his white No. 7 Juice Williams jersey, why wouldn't you heckle?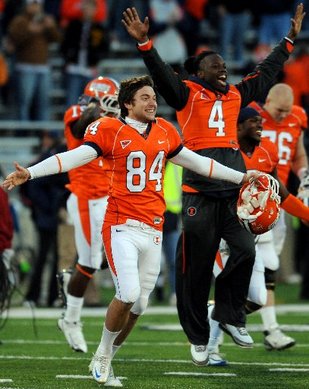 "Rich Rodriguez, I love you, man," the fan said as the final minutes ticked down on Illinois' 38-13 win over Michigan. "If it weren't for you, we'd be 1-7."
This is what it has come to less than two seasons into Rich Rodriguez's reign at Michigan. A once-feared offensive coach, a guy who was considered to have an innovative mind, is being begged to stay by opposing fans.
It feels like eons ago that Michigan was 4-0 and ranked in the Top 25. Remember that? Yeah, thought so.
Then Big Ten play started and the Wolverines unraveled. First, there was the close loss to Michigan State and then another one a week later to Iowa. And to think, those are the high points.
So maybe the fan had it right. Maybe the rest of the Big Ten is watching what is unfolding in Ann Arbor and secretly hoping Rodriguez is around in the maize and blue for the long haul. Because don't forget, Rodriguez is the king of the second-year turnarounds.
Who knew it would be a U-Turn back to 2008?
Michigan has looked flat uncompetitive the past two weeks. Against Penn State, that's understandable. The Nittany Lions are arguably the best team in the league and perhaps headed for a BCS bowl berth.
But Illinois? Yuck.
The Illini were 1-6 entering this game. They hadn't beaten Michigan two straight years since 1957-58, more than 50 years ago. They hadn't won against a Football Bowl Subdivision team in 364 days.
Two weeks ago, Stevie Brown was talking about a possible chance to run the table and get to the Rose Bowl. Now, Michigan should be happy with any bowl.
"We're not getting wins that we should," Michigan cornerback Troy Woolfolk said. "We're just playing for pride now. We know we're not winning the Big Ten, but we still have a chance to go to a bowl.
"Just one more win and if we do that, it'll be a better season than last year."
At the end of August, that might have been good enough - and yes, if Michigan makes a bowl it will constitute progress.
It is the way Michigan loses that is the problem. Defensively, Michigan consistently is burnt by receivers, running backs and mobile quarterbacks. The way cornerbacks play off of the line of scrimmage - some plays Saturday had cornerback Donovan Warren 10 yards from the line - is maddening and ineffective. Offensively, the Wolverines have turned into a circus show with turnovers and a freshman quarterback that looks, well, like a freshman.
And the coaching has been atrocious all around. Going for it on fourth-and-one was a coaching mistake that turned the game. Not playing Brandon Minor - Michigan's best and hardest-running back - was an error. Clearly, he was healthy enough to play in mop-up time and on that fourth-and-one play, where Rodriguez said he wanted "a big, physical guy."
The lack of a dedicated special teams coach is showing as Michigan lost a punt - again - on a fumbled attempt at a catch.
Again, the fans speak.
"Brandon Minor," another fan yelled toward Michigan's bench, this one around the 20-yard line. "I thought you would have played more today."
"Rich Rod, it's not all your fault," the fan on the 50 bellowed. "Your defensive coordinator has a large role in this."
It's not. Blame should go all around, but it should end with Rodriguez. His team has gotten worse throughout the season, and it isn't because of the quality of opponent. Michigan beat what will likely end up being the third-best team on its schedule, Notre Dame. It also lost to one of the worst in Illinois.
The latest loss also leaves you wondering exactly what Michigan got when it hired Rodriguez from West Virginia a little under two years ago.
Michael Rothstein covers University of Michigan sports for AnnArbor.com. He can be reached at (734) 623-2558, by e-mail at michaelrothstein@annarbor.com or follow along on Twitter @mikerothstein.