Posted on
Fri, Jan 25, 2013 : 5:30 a.m.
After 'step forward' against LSSU, Michigan hockey looks for elusive weekend sweep
By Kyle Austin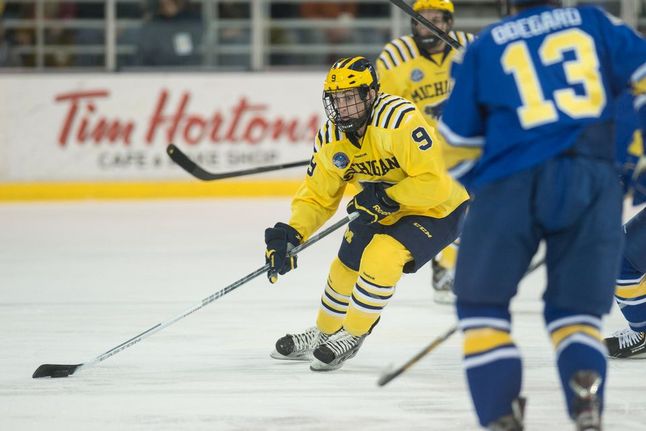 Courtney Sacco | AnnArbor.com
The Michigan hockey team has a tradition of singing "The Victors" in the locker room after each two-game series sweep.
Twenty-four games into this season, the song hasn't been sung.
Michigan came close on Saturday night at Lake Superior State. But after Michigan won on Friday, it saw a 2-1 second period lead turn into a 3-2 loss.
The sweep has proved elusive.
"I told our team after the game, I'm going to forget the words if we keep doing this," Michigan coach Red Berenson said this week. "It's important. We don't rave about it, but it's an important part of the locker room mentality."
It may not have been a sweep, but the Wolverines saw a road split with LSSU as an improvement, particularly after coming in on a three-game losing streak. They put up six goals Friday and won by two, and lost by one on a third-period goal Saturday.
"I thought we took a step forward last weekend, and maybe could have won both of those games," Berenson said. "We had probably the best back-to-back games we've played all year."
Now, Michigan has five more series left in the regular season to earn the sweep, starting with two road games at Western Michigan Friday and Saturday. WMU is tied with Notre Dame for first in the CCHA and ranked No. 9 in the most recent national rankings.
The get his team into gear for those games, Berenson has placed an emphasis on intensity and tenacity and work ethic. Starting with this weekend, Berenson said he wants his team in playoff mode.
"We're trying to get into a playoff attitude now," Berenson said. "We're not cruising into the final weeks of the schedule, we're clawing our way into the final weeks, and that's how we have to approach it. Obviously we haven't even come close to peaking."
Part of that change may already be showing. Forward Luke Moffatt, who notched two goals and an assist Friday, attributed the weekend improvement in part to a better work ethic and tweaks to the forecheck.
"It's a lot more fun for our offense go after them and let us really fly and get the wheels moving and put some hard work back in our game," Moffatt said.
The Wolverines currently sit tied for ninth in the CCHA with 18 points. With 10 games left in the league season Berenson said he thinks a No. 5 seed in the CCHA tournament is obtainable. That would earn the Wolverines a tournament bye.
Michigan hopes that ramping up the intensity over the next month can help it play its best hockey come CCHA tournament time. After all, the program's 22-year NCAA tournament streak will likely ride on that outcome.
"Obviously that's what it's coming down to now," Moffatt said of the tournament. "We're going to have to play really well in that CCHA tournament and fight for the win there. It's all about peaking at the right time, if we do peak there, hopefully, it's a great time to peak."
Kyle Austin covers sports for AnnArbor.com. He can be reached at kyleaustin@annarbor.com or 734-623-2535. Follow him on Twitter @KAustin_AA.