Posted on
Wed, Aug 11, 2010 : 3 p.m.
Safety Latarrius Thomas ready to contribute to Eastern Michigan secondary after a year on the sidelines
By Jeff Arnold
Latarrius Thomas realizes people question his decision and wonder how he landed in Ypsilanti.
They can't fathom how someone who was one of Florida's top 100 recruits coming out of high school left Louisville after three years for the Eastern Michigan football team.
Leaving meant he would sit for a year under NCAA rules and meant losing 30 credit hours while entering a football program that finished last season 0-12.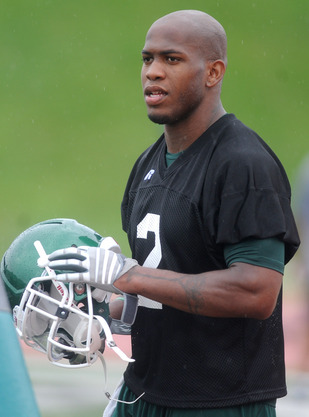 Angela J. Cesere | AnnArbor.com
Yet, the defensive back who made 43 tackles over three years when he started 11 games chose to walk away in order to play for Eastern coach
Ron English
.
"You actually come across a few people that care about you past football, but I found one I really trust and believe in," said Thomas, who will play for the first time in 18 months when Eastern Michigan begins the season on Sept. 4 against Army.
"I would have followed him anywhere. If he would have gone D-2, I would have gone."
When English left his post as Louisville's defensive coordinator to take the Eastern Michigan job, Thomas knew he had a decision to make.
The easy choice would have been to stay put and adjust to a new coordinator. In the beginning, he had chosen to play at Louisville rather than Miami (Fla.) because the Cardinals offered him the chance to play receiver, a position he excelled at as a high school senior.
After a month, Thomas was moved to safety, eventually putting him under English's watch during his junior year. Coming off a sophomore season when he played just two games before sustaining a season-ending knee injury, Thomas was pushed harder by English than any of his previous coaches.
English knew what Thomas was capable of after he earned third-team All-America freshman honors. But as hard as English was on Thomas, he found English had his best interest at heart.
So when English announced he was leaving, Thomas discussed the idea of following a man he considered a mentor to Ypsilanti with his father. Harold Cox, who had also established a bond with English, left the choice up to his son, telling him if his decision to leave Louisville was the worst move he ever made, it wouldn't be a problem.
Thomas called the decision an easy one - even if it meant forcing him to sit for a year when he watched Eastern Michigan go winless in 2009. For Thomas, it didn't matter.
"It's about me being with someone with a guy that I trust, my father trusts," Thomas said. "He's a good guy, and that's what it is really about."
Thomas will be expected to play a significant role for the Eagles. He's also hoping to reach the NFL even though he's in a less visible program.
"It will be fun to watch him play," English said. "My hope for him is that he does he best and then, that he enjoys it. If he does that, he'll be the best safety in this league. He was good and if he keeps working, he can be great.
"If he can get back to where he was (at Louisville) and then improve on that, he'll be the best."
Thomas knows he will need more than his experiences at Louisville to excel this season. He will serve as a mentor to fellow defensive backs. Even though he didn't play during last year's winless season, Thomas feels part of it.
"We all have the same mentality - I don't think we were an 0-12 team, but we went 0-12," Thomas said. "But we're going to use that. No one expects anything out of us. All we have is us. Everyone came together and that kind of brought us together."
Jeff Arnold covers sports for AnnArbor.com and can be reached at (734) 623-2554 or by email at jeffarnold@annarbor.com. Follow him on Twitter @jeffreyparnold.