Already a celebrity, Kolan McConiughey takes his bowling prowess to a national stage
Posted on Sat, Jul 17, 2010 : 2 a.m.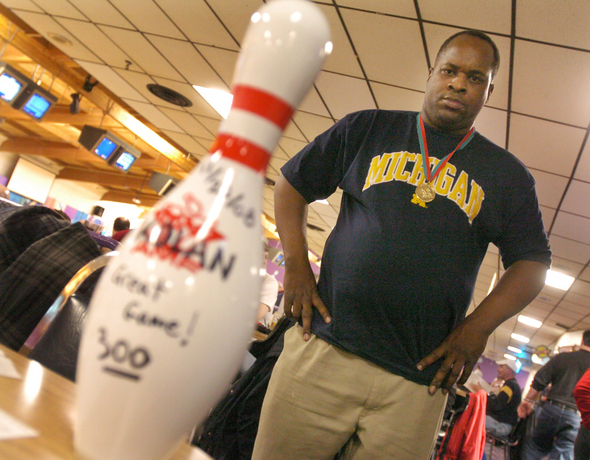 This morning, Kolan McConiughey will board a private charter plane, he'll be pampered and fed the fanciest food, and his foster family will greet him when he touches down in Omaha, Neb.
But at the end of the day, when he's staring down oil-slicked lanes at ten wooden pins, he'll be right at home.
McConiughey, of Ann Arbor, has made a name for himself over the last 20 years on the state-wide Special Olympics circuit. He's bowled seven career 300 games, including one in last year's Michigan Special Olympics finals, and even had a Topps Trading Card (some of which are listed on eBay.com) commissioned in his honor.
But today marks a new feat in his bowling career. Today, he'll compete in his first-ever national Special Olympics.
"He's very, very excited," said Jan Perdy, his foster mother. "It didn't really sink in when he first found out, because he's been to the state games so much. But once he realized that he was going to compete with people from around the country and he was going to get to fly in a jet, it hit him … it's really important to him." In order to qualify for the national games, athletes have to be nominated by their peers, as an inspiration to athletes with disabilities — and Kolan fits the bill perfectly. On top of his passion for bowling, McConiughey holds a full-time job at the Busch's grocery store in Ann Arbor. McConiughey also gained the attention of the Special Olympics community when he called out Barack Obama after the President made some off-color remarks about the Special Olympics on "The Tonight Show." (Read more about that here.) "He is becoming a little bit of a celebrity (in the Special Olympics community)," Perdy said. "When we were at the summer games last year, people recognized him and asked him for autographs and things. And I know of a lot of special education teachers that use him in their classes as motivation." Although he's an almost nightly fixture at Colonial Lanes in Ann Arbor, he's actually spent even more time at the lanes, practicing and getting ready for the event. On top of his ramped up practice schedule, he's also attended a few camps and met with his bowling coach. A few days before he was to board the plane, the pressure started to get to McConiughey. But, as with any great athlete, he is using it to his advantage. "He is getting pretty nervous about the Games," Perdy said in an e-mail. "He said that last night he just decided to chill and not bowl for a night. … Kolan wanted you to know that he is ready to win some medals. He is going to show everyone what a good bowler can do."