Posted on
Sun, Aug 19, 2012 : 3:53 p.m.
Already one of nation's top tight ends, dropped passes motivate EMU's Garrett Hoskins to be better
By Rich Rezler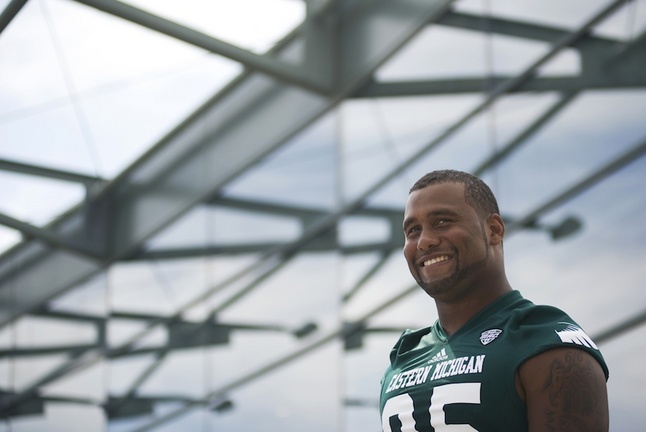 Dan Brenner | AnnArbor.com
Garrett Hoskins has spent an entire offseason thinking about the football that hit his hands just as a pair of Northern Illinois defensive backs hit him. He sees it roll away as the Huskies stand over him, celebrating a trip to the Mid-American Conference championship game.
"I never want that to happen again," Hoskins, a senior tight end, said at the Eastern Michigan football team's media day on Sunday.
It was a moment of pure desperation for Eastern Michigan, which had its dreams of bowl eligibility dashed with the incomplete pass from quarterback Alex Gillett on that final offensive play of the final game of last season.
The Eagles' defense had done its job, limiting a powerful Northern Illinois offense to 18 points and 286 yards. The offense, which scored its first touchdown with 6:19 left to play to make it 18-12, had one last chance to end its surprising regular season with its biggest upset.
EMU drove to the NIU 31-yard-line with two minutes remaining, but that's when the wheels fell off. Back-to-back sacks of Gillett left the Eagles facing a 4th-and-35 play. With the season on the line, Gillett escaped another rush and threw to his favorite target deep down the middle of the field. He and Hoskins, who also dropped a sure touchdown early in the game, have been starting for the Eagles since their freshman season in 2009.
NIU's Sean Evans and Demetrius Stone converged on Hoskins and knocked it out of his hands. The Huskies ran out the clock and Eastern Michigan (6-6) lost for the third time in four November games, all by six points or fewer.
"That's a tough catch. The ball's exposed. His back's exposed and it's a bang-bang play. It's a hard catch because where they hit him and how the ball is exposed," EMU coach Ron English said after the game. "A lot of people are never going to make that catch. Garrett Hoskins has some of the best hands on our team. It just so happens he was involved in a couple plays like that."
If he has his way, Hoskins won't be involved in any more.
The 6-foot-2, 253-pounder said the Eagles have placed extra emphasis on the passing game this spring, hoping to add an extra dimension to an EMU offense that ranked No. 14 in the nation in rushing yards but were No. 13 in the 13-team MAC in passing yards. He's been spending extra time after practice catching passes and running routes.
Hoskins says his biggest strength at the tight end position is his run blocking. His athleticism and role in the pass game - he had at least one reception in 11 of the Eagles' 12 games - put him on the 33-player watch list for the John Mackey Award, presented annually to the nation's best tight end.
"He's always had a lot of ability as a pass-catcher. He's got some of the strongest hands on the team," EMU tight ends coach Tom Burpee said. "In the past, he's dropped some balls he shouldn't have dropped, but he's made some incredible catches, too.
"You can't teach the kind of hands he has. Go in the weight room and he can pick up a couple 45-pound plates with one hand. It's a concentration issue and he's focused in on it."
Hoskins has heard all the pre-season hype. Along with the Mackey Award watch list, he's the tight end on numerous MAC preseason first-team lists and is a candidate for the tight end trophy from the College Football Performance Awards.
"I don't worry about those things. The only thing I worry about from a personal standpoint is getting better every day," Hoskins said. "My focus is on getting this team to Ford Field (for the MAC title game)."
One of the first recruits to sign with English's staff, Hoskins' growth into one of the nation's top tight ends has mirrored the improvement of the EMU program.
Hoskins and Gillett were two of nine true freshmen to see playing time during English's inaugural 0-12 season in 2009. Four years later, they're integral parts of what could be the final piece of the puzzle - a reliable passing game - to make the Eagles a true conference title contender.
"Those are two of the guys we've built this program around. They've been here seems like forever now," Burpee said. "They like each other as people and get along real well, there's definitely chemistry with them on the field.
"We're excited for their senior year."
Rich Rezler covers sports for AnnArbor.com.